Rare Disease Day Feb. 28: Scleroderma Patients' Unmet Research Needs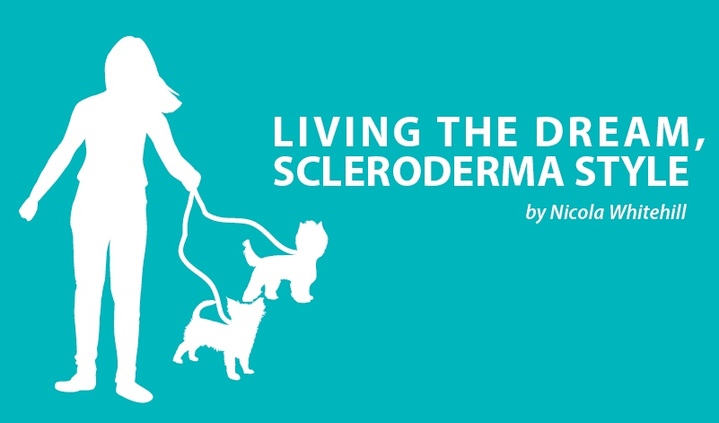 Less than a week remains until Rare Disease Day (Feb. 28), the theme for which this year is research. In this column I discuss some of the many current unmet research needs of systemic scleroderma and Raynaud's patients. Clearly, a cure, combined with understanding of the disease cause, are the ultimate dream. #SclerodermaFreeWorld #RaynaudsFreeWorld.
In the meantime, there remains a huge medical need for improvement on current medications and treatments, which are disease-modifying agents at best. Sadly, there is no certainty that a patient will respond optimally. Since no two patients are alike, they don't have exactly the same set of symptoms.
In the United Kingdom, we are extremely fortunate to have fantastic trail blazer medics and other scleroderma health professional experts, who last year published the UK Scleroderma Treatment Guidelines.
In my last article I focused on the current global research landscape, along with government commitments to Rare Disease Strategies, including the UK Strategy and research investment.
If you live in the U.K., click here to download a letter drafted by RareDiseaseUK, which can be sent to your Member of Parliament.
Last year the Journal of Scleroderma and Related Disorders was launched at The Systemic Sclerosis World Congress. Volume 1 Number 3, which you can see here, has an article of particular interest: "Gastrointestinal manifestations of systemic sclerosis" by Andrew B. Shreiner, Charles Murray, Christopher Denton, and Dinesh Khanna, discusses clinical unmet needs.
The study abstract reads:
"In patients with systemic sclerosis (SSc), gastrointestinal (GI)-tract involvement is almost universal. Any segment of the GI tract from mouth to anus can be involved, and GI symptoms are a frequent cause of morbidity. In several cases, GI-tract involvement can progress to the point of malnutrition requiring parenteral nutrition. GI-tract involvement in SSc contributes to disease-related mortality although mostly as a co-morbdity rather than direct cause of death."
I highlighted in a column, My Skin is Cured From Scleroderma, how my gastro-intestinal symptoms remain a challenge, which I have eased further to changing my diet.
The unmet clinical needs of the scleroderma patient are plentiful, providing a plethora of avenues for further research and pharmaceutical company interest. Often, these unmet needs can be overlooked since they are not life threatening. I wrote about the importance of an early diagnosis. Needs can overlap with other autoimmune symptoms, such as fatigue, mobility, and pain and hair loss.
On Day 18 of Scleroderma Awareness Month 2016 I focused on the contracture of the mouth, as well as the dental issues that systemic scleroderma can cause, in addition to sclerodactyl hands, where the fingers shorten and curl in on themselves.
U.S. patient Karen Baker has undergone two surgeries on her right hand. The first of which was to add bone from her wrist to reconstruct her fingers. The second surgery was to add artificial knuckles.
Karen says "My hand's will never be perfect but I can use my right hand now. I now have much better blood flow to this hand, and no more ulcers.''
Calcinosis
Although calcinosis is not a direct life-threatening symptom when compared to severe internal organ involvement, such as heart failure or renal crisis, it is a huge unmet, painful, need of the scleroderma patient.
There are no adequate treatments or medications for calcinosis. Some patients report a marginal improvement when taking the antibiotic minocycline, but I saw no improvement. I also have spoken with patients who had undergone surgery for calcium removal, with the calcium only returning in time. I am not brave enough for this option being a reality for me! Read more
Telangiectasia
Telangiectasia, although not life-threatening as such, can be extremely distressing to the patient due to the change in appearance of the skin. My face has taken on its own dot-to-dot puzzle, which has emerged over the course of the past 10 years. I also have telangiectasia covering my trunk and the palm of my hands. Read more
Bones, joints, muscles
Most scleroderma patients will experience symptoms relating to their musculoskeletal system, including their bones, and in some cases this can lead to osteoporosis.
All of my joints are swollen, stiff, and painful. This includes my toes, feet, ankles, knees, hips, elbows, shoulder, neck, wrists, and hands. These symptoms are an overlap with rheumatoid arthritis. Read more
Skin discoloration
Some patients experience hypopigmentation (vitiligo), whereby skin patches can appear with the skin losing its natural coloring pigmentation.
Cellulitis
Scleroderma also can affect and alter the soft tissue in the body, with symptoms such as cellulitis, being an added extra, painful complication. Read more
Digital ulcers
Prevention is most certainly the way to manage these excruciatingly painful wounds. Read more
By no way is this an exhaustive list of unmet clinical needs.
I hope to have included the most frequently seen non-life-threatening symptoms. But as I constantly emphasize, no two scleroderma patients present with the exact same set of symptoms, a further demonstration of the desperate need and requirement for investment in clinical research.
***
Here is my column index
Please make a donation to Professor Chris Denton's medical research fund at  The Scleroderma Unit, The Royal Free Hospital, London where 100% of your donation will be used to fund medical research.
Wishing you all a blessed Rare Disease Day, feeling good, living the dream, scleroderma style.
#SclerodermaFreeWorld #RaynaudsFreeWorld
Note: Scleroderma News is strictly a news and information website about the disease. It does not provide medical advice, diagnosis, or treatment. This content is not intended to be a substitute for professional medical advice, diagnosis, or treatment. Always seek the advice of your physician or other qualified health provider with any questions you may have regarding a medical condition. Never disregard professional medical advice or delay in seeking it because of something you have read on this website. The opinions expressed in this column are not those of Scleroderma News, or its parent company, BioNews Services, and are intended to spark discussion about issues pertaining to scleroderma.