My Skin Is Cured of Scleroderma, but the Rest of Me?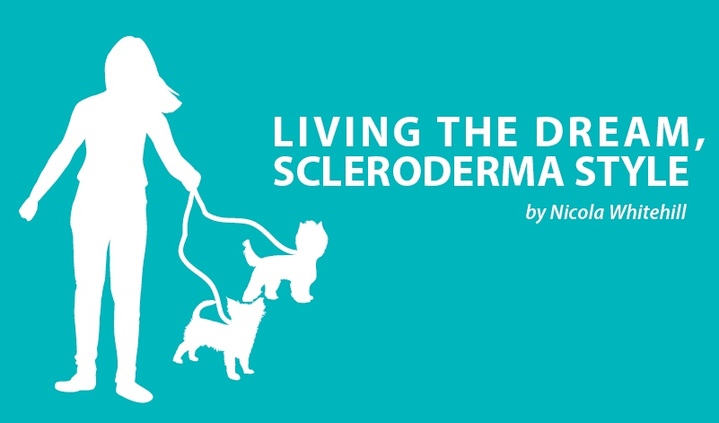 Almost 18 years to the day from my visit to the Scleroderma Unit at The Royal Free Hospital in London, I was exhilarated to have been told on Nov. 30 by world-renowned scleroderma expert Prof. Chris Denton that my "skin is now cured from scleroderma."
I was given 15 months to live by my medical diagnosing doctor in autumn 1997 when I was 24. In December 1998 I arrived at the office of Prof. Denton and Dame Prof. Carol Black at the Royal Free Hospital in a very bad way. My body had turned to stone.
The skin covering my entire body had become tight, itchy and painful — it felt too small for my body, sort of like shrinking a piece of clothing in the wash. This was accompanied by swollen joints and weak muscles, making any physical exertion, including standing, a huge feat. My fingers and toes were always blue, with a minimum of 4 digital ulcers at any one time. All this, along with a level of exhaustion I had never experienced before (even the week I spent in Ibiza after my A-level exams couldn't compare with how tired I felt).
Following many extensive medical tests, the good news was there was minimal internal organ involvement. However, the progression and aggressiveness of the fibrosis and lack of elasticity of my skin and connective tissue placed me on the "diffuse systemic sclerosis critical patient" list. An urgent medical treatment plan was drawn up with numerous IV cyclophosphamide infusions scheduled. If they were ineffective, I would have a stem cell transplant.
The only way I can explain how I felt leaving the hospital is an overwhelming sinking feeling inside. I recall having to consciously force myself to breathe. But I also felt comforted knowing that I was now under the medical expertise of global leaders in their field. Their dedication and commitment to improving the scleroderma patient landscape invoked huge hope in me that a cure would be discovered within my lifetime.
And most of all, they would "pull out all of the stops" to do everything they could to help me — and, of extreme importance to me, help me realize my childhood dream of becoming a barrister (British attorney).
My new medical team took no time in getting me hooked up to the chemo drips. I had two sessions before the Christmas holiday, which was repeated at the start of 1999. At the same time I was taking mycophenolate mofetil (mmf, 2g/day). By Easter 1999, my skin symptoms gradually eased, and I was taken off the stem cell transplant list.
On March 1, 2004, I qualified as a self-employed practicing barrister, and so, having achieved my personal life goal, I reduced the mmf dose with a view to stopping it completely. By the end of June, I was back on my settee after experiencing a relapse with my symptoms, mainly lethargy, intense musculoskeletal pain and neuralgic pain. Six months later I relocated to my birth town of Southport, and my full-time job was now keeping my symptoms at a tolerable level.
Digital ulcers were my nemesis until I began taking Bosentan 125 mg twice a day until October 2012. Due to my Raynaud's sensitivity, I have found that the prevention of attacks is far less painful than having an episode. This makes me a "home bird" all year long. Again, words are difficult when trying to describe an attack of Raynaud's phenomenon. I could compare it to slamming your hand in the car door, but the pain is impossible to articulate.
For more information about Raynaud's and scleroderma, read my column from September: Raynauds seasonal changes.
If I am honest, 18 years ago I would never have believed (given the medical advice I had been given, combined with how I was feeling and what was happening to my body at that time), that I would still be alive, let alone be told that my skin would be cured of scleroderma. I don't want to be morbid, just honest about my reality at that time.
Again, I struggle to describe the level of gratitude and appreciation I have for Prof. Denton and the scleroderma unit team at the Royal Free Hospital. I am also extremely grateful to my local medical team here in Southport, Dr. Sykes and the rheumatology team, as well as Dr. Bontea and the dermatology team at Ormskirk hospital, and of course my dentist, Andrew Booth, and hygienist Louise.
As a long-term scleroderma patient, my main health challenges now include extensive calcinosis, telangiectasia, dry mouth and gum recession, chronic MSK pain and Raynaud's. I have stabalized my gastrointestinal symptoms by altering my diet and including daily smoothies and fresh juices for maximum super-food nutrition.
These unmet clinical needs certainly show that scleroderma is more than skin deep, causing devastation to the vascular and soft tissue and connective tissue processes along the way.
I have written about the the scleroderma olympian and what I can expect from a scleroderma diagnosis, as well as the long term scleroderma patients' annual check-up.
All in all, I am more than aware, and I am extremely humbled to know, that I am a very lucky scleroderma patient regarding the "mild" set of symptoms I now experience compared to some of my fellow patients, who are far braver than I in dealing with their disease activity.
But one day, hopefully very soon, I want to be able to say, "I used to have scleorderma."
So until then, I will continue to be delighted in how I feel, knowing that "my skin is cured from scleroderma."
This is the T-shirt I was wearing on the day I was reminded that I was a medical miracle:
Living the dream, scleroderma style, hoping for a cure …
#SclerodermaFreeWorld #RaynaudsFreeWorld
Note: Scleroderma News is strictly a news and information website about the disease. It does not provide medical advice, diagnosis, or treatment. This content is not intended to be a substitute for professional medical advice, diagnosis, or treatment. Always seek the advice of your physician or other qualified health provider with any questions you may have regarding a medical condition. Never disregard professional medical advice or delay in seeking it because of something you have read on this website. The opinions expressed in this column are not those of Scleroderma News, or its parent company, BioNews Services, and are intended to spark discussion about issues pertaining to scleroderma.