A Raynaud's and Scleroderma Patient's Nemesis Season: Winter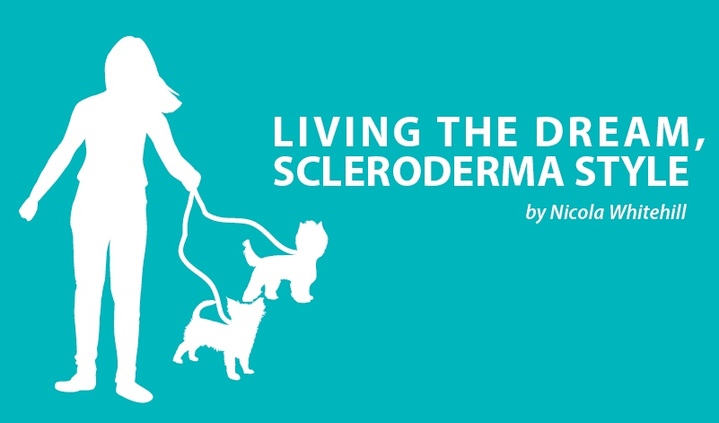 Here in the northern hemisphere we are in the midst of winter. In an attempt to minimize my Raynaud's symptoms, hibernation began in October. This entails being under house arrest, unless I really need to go out. Such "special days" out are reserved for medical appointments and juicing ingredient re-stocks (living the dream, scleroderma style).
I wrote about the full time job of managing my scleroderma symptoms here. And I detailed my "scleroderma diet" here.
I have learned from experience, over the course of the past two decades, that my Raynaud's symptoms are best managed by maintaining a constant temperature around me, as much as possible. In addition, to wearing multiple layers of thermal garments and heatwarmer accessories, making for the desertion of my inner Bond Girl persona, years ago.
September 2017 will mark the 20-year anniversary of my diagnosis, when I was given a 15-month prognosis by my diagnosing doctor, who led my care for the first 12 months after diagnosis. Then I changed to Professor Chris Denton and the Scleroderma Unit at The Royal Free Hospital, to whom I am eternally grateful, having now reversed my skin involvement back to healthy skin.
I have tried all of the medications currently licensed and prescribed for Raynaud's, with little clinical affect, other than intense headaches, dizziness and nose bleeds. I have been taking bosentan 125 mg twice a day, continuously, for the past four years, and have seen a marked, and most welcome, improvement with the reduction in digital ulcers I now experience. I am extremely grateful that my ulcers did not develop into gangrene or tissue death resulting in amputation, which I know is the reality for some Raynaud's patients.
Unfortunately, my Raynaud's remains extremely sensitive to the cold, even with taking bosentan. An attack is comprised of color changes (blue, white, black, red) to my hands and feet, accompanied by intense muscle spasms throughout my entire body. This is a most unpleasant, horrendous and painful experience, transforming this social butterfly into a confined eskimo Michelin Man in an attempt to reduce the attacks. The level of tiredness that follows an attack is beyond exhausting.
Raynaud's can present on its own, as well as secondary to another diagnosis, such as scleroderma, where it is known as "secondary Raynaud's." There is no cure to this extremely debilitating and painful condition, requiring much-needed financial investment into medical research to improve the understanding of what causes the blood vessels to spasm, as well as what biological processes need to be activated to prevent it.
Further to the success of the Show Your Colours (SYC) for Raynaud's event in October, Raynaud's Awareness Month, the SYC Raynaud's team and I have set up a  JustGiving Page Raynaud's Unit The Royal Free Hospital where 100% of the monies and donations raised will go toward medical research led by Dr. Kevin Howell and Prof Denton, who are world leaders and authorities in Raynaud's research.
We have a busy, eventful year planned for to raise awareness and funds, so please get involved. We are desperate for a cure!
I detailed further the medications and management of Raynaud's here, as well as the temperature sensitivity.
This is going to be a very busy year for raising awareness. Increased commitment for medical research investment hopefully will provide the eureka moment needed for unlocking the Raynaud's and scleroderma code. In the meantime, Raynaud's and scleroderma patients are  living with the hope that the discovery will be made in their lifetimes.
Let's make this happen: #SclerodermaFreeWorld #RaynaudsFreeWorld. … Imagine that!
Here is a visual for awareness events that you may be interested in. Rare Disease Day is Feb. 28, with "Medical Research" as the theme. Follow the Facebook page for regular updates.
This is my first article for 2017, so I would like to take this opportunity to wish you a very happy year ahead, feeling good and living the dream, scleroderma style.
Note: Scleroderma News is strictly a news and information website about the disease. It does not provide medical advice, diagnosis, or treatment. This content is not intended to be a substitute for professional medical advice, diagnosis, or treatment. Always seek the advice of your physician or other qualified health provider with any questions you may have regarding a medical condition. Never disregard professional medical advice or delay in seeking it because of something you have read on this website. The opinions expressed in this column are not those of Scleroderma News, or its parent company, BioNews Services, and are intended to spark discussion about issues pertaining to scleroderma.