For Raynaud's Awareness Month, Show Your Colors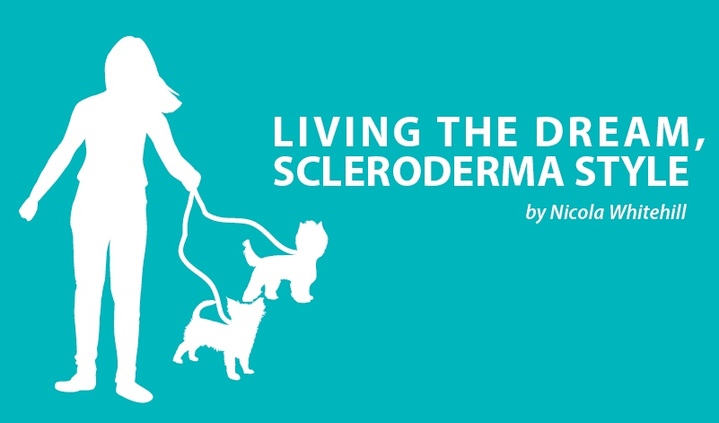 October is Raynaud's Awareness Month. However, for Raynaud's patients, everyday, whatever the month, is a Raynaud's day. There is no cure.
Raynaud's is the constriction of blood vessels in response to a decrease in temperature, and/or stress. This narrowing of the blood vessels can be extremely painful,
accompanied with a burning or tingling sensation. Drug treatments target symptom suppression, and the more potent the drug, the more intense the side effect.
Raynaud's can present on its own, where it is called Primary Raynaud's, or it can appear along with another medical condition, like an autoimmune disease such as scleroderma, where it is known as Secondary Raynaud's.
If Raynaud's symptoms are not managed correctly, digital ulceration, gangrene, and even amputation can result.
The symptoms can cause an extremely visible three-way color change to the affected area, which can include any site on the body. The hands and feet are most commonly affected, but the ears, nose, and tongue, among other sites, can be affected also.
In recognition of Raynaud's Awareness Month, the Facebook group "Raynaud's Awareness" is holding an online global event on Oct. 31 — "Show Your Colours For Raynaud's," where a live Raynaud's demonstration will be given.
In the meantime, please add any visual images you may have of a Raynaud's attack to the event page, and please include any additional comments you think are important for awareness and education purposes. AND, please share the event with all of your local media contacts, and with anyone, anywhere, who you think it will have an impact on.
Here is the link to the event: www.facebook.com/events/652969951539144/?active_tab=about
Due to the fantastic response to the "Show Your Colours Event," the organizers (Raine, Louise and myself) have started a specific Facebook Page for purposes of sharing and raising Raynaud's events and awareness throughout the year. Please get involved, and add information or the details of an event which you may be holding to raise awareness of this debilitating condition.
Here's the link to that page: www.facebook.com/Show-Your-Colours-For-Raynauds-Awareness-Events-Page-1715425828780694/?fref=ts
I wrote about the U.K.'s current treatment approach and guidelines for Raynaud's management on Day 24 of my Scleroderma Awareness Campaign:
sclerodermanews.com/blog/2016/06/24/day-24-scleroderma-awareness-month-digital-ischaemia-management
As well, I included more about Raynaud's symptom challenges in my Seasonal Change article:
sclerodermanews.com/blog/2016/09/02/raynauds-seasonal-changes-and-scleroderma
A Raynaud's attack can bring about tingling, burning, throbbing sensations, where the affected area goes into spasm and is extremely painful. For me, when the blood gradually returns to the affected area, the feeling is similar to "pins and needles." The longer the loss of circulation, the more intense and painful will be the time when the blood returns.
All in all, the management of Raynaud's has improved marginally over the years, in my view. However, this area of medicine still remains relatively neglected, with drug treatments targeting symptoms suppression as opposed to prevention and blood vessel repair.
Raynaud's has also shown to be managed with "repurposed drugs." For example, some patients have reported an improvement in their Raynaud's symptoms by taking the anti-depressant fluoxetine (Prozac).
On a personal level, I manage my Raynaud's symptoms by being mindful to prevent an attack in the first place. This means that I am under house arrest for most of the time, with medical appointments taking priority in my diary, and prepared for days in advance.
My Raynaud's symptoms have improved since taking bosentan 125 mg twice a day continuously for four years. Bosentan has been the magic pill for me in terms of reducing painful, debilitating digital ulcers. [Bosentan, sold under brand name Tracleer, is approved in the U.S. and Europe to treat pulmonary arterial hypertension.]
I shared my tips for managing Raynaud's here: sclerodermanews.com/social-clips/2016/10/17/10-tips-to-better-manage-raynauds-during-seasonal-changes-raynauds-awareness-month-special/
Please comment below if you have some helpful tips for managing your Raynaud's. I very much hope that a cure for this condition will be discovered in my lifetime. #RaynaudsFreeWorld
Note: Scleroderma News is strictly a news and information website about the disease. It does not provide medical advice, diagnosis, or treatment. This content is not intended to be a substitute for professional medical advice, diagnosis, or treatment. Always seek the advice of your physician or other qualified health provider with any questions you may have regarding a medical condition. Never disregard professional medical advice or delay in seeking it because of something you have read on this website. The opinions expressed in this column are not those of Scleroderma News, or its parent company, BioNews Services, and are intended to spark discussion about issues pertaining to scleroderma.