Scleroderma: The Full-Time Job of Managing the Symptoms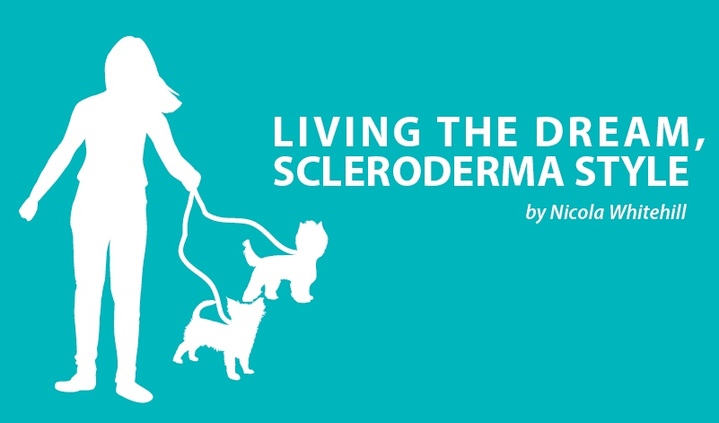 Every scleroderma patient presents with differing symptoms. Diffuse/systemic scleroderma affects the entire body, making the need for a multi-disciplinary medical team paramount to ensure optimum patient care. Attending and preparing for medical appointments is a full-time job, even when the symptoms have stabilized.
In the U.K. we are blessed with an extremely committed and dedicated National Health Service  scleroderma medical team. In June, I wrote about the "scleroderma medical dream team."
In August I wrote about my annual monitoring tests. Not only does a scleroderma diagnosis bring a change in the body's capacity to function, but also a drastic change in lifestyle, by way of no longer being physically able to participate in tasks and hobbies that were once a source of joy and remuneration.
Not a day goes by when I do not think of my "old life" as a practicing barrister, appearing at various crown and county courts, representing and advising clients.
However, being realistic, I must respect my symptoms in an attempt to minimize their severity. This includes my daily skincare routine, which has contributed to my recent medical breakthrough (My Skin is Cured from Scleroderma, But the Rest of Me?), as well as, my daily juice smoothies and strict diet.
On Dec 8 2016, I was live on the Scleroderma News Facebook page, talking about my recent skin reversal and sharing some of my scleroderma survival tips. This was my live debut, and although my phone signal brought about an earlier finish than planned, I very much enjoyed the experience, and I was delighted with the fantastic audience that joined me live. Thank you. Here is a recording.
My sensitivity to the slightest change in temperature with my Raynauds symptoms, makes me very much under house arrest, in an attempt to prevent a Raynauds attack.
Having been a scleroderma patient for 19 years now, it is my view, further to my own personal experience, combined with my observations of the global scleroderma community, that Scleroderma turns "social butterflies" and the "life and soul of parties" into shadows of their former, older selves.
This is not just exclusive to scleroderma; this is a reality of the chronic illness patient and any patient, whether it be flu or another transitory ailment, while the body recovers.
Sadly, for some scleroderma patients, the disease process is too aggressive for their body to recover from irreversible damage, which then becomes life-threatening. This is why an early diagnosis is essential for a more favorable outcome to the scleroderma patient. I wrote more about this in a September column.
On October 31 2016, the U.K. government published an open consultation, "Work, health and disability green paper: improving lives.'"
A "green paper" is a preliminary report of government proposals that is published in order to provoke discussion. The government is inviting comment on its Work, Health and Disability Green Paper, which outlines how disability or a health condition should not dictate the path a person is able to take in life, or in the workplace.
What should count is a person's talents and their determination and aspiration to succeed."
This runs until Feb. 17, 2017.  I would urge every U.K. patient and non-patient alike to add their view to this consultation. Read more about this.
For most scleroderma patients, the physical disability aspect of their diagnosis is one of many challenges which their daily reality poses. The hidden, sometimes invisible, challenges include chronic fatigue and pain. Both cannot be underestimated with the devastation that they can bring, alone or combined, on a day-to-day basis, to the scleroderma patient.
Since it is the holiday season, I would like to wish you and your family a very happy, festive time, feeling good. Unfortunately, the full-time job of being a scleroderma patient does not allow for annual leave or a "holiday" from the symptoms — yet. Investment in medical research, combined with patient interaction by way of spreading awareness and involvement, is key for a permanent scleroderma holiday of the future.
My Christmas wish is that 2017 will bring about the reality of #SclerodermaFreeWorld #RaynaudsFreeWorld.
Dreaming big, with my job today "to simply get better"… Living the dream, scleroderma style.
Note: Scleroderma News is strictly a news and information website about the disease. It does not provide medical advice, diagnosis, or treatment. This content is not intended to be a substitute for professional medical advice, diagnosis, or treatment. Always seek the advice of your physician or other qualified health provider with any questions you may have regarding a medical condition. Never disregard professional medical advice or delay in seeking it because of something you have read on this website. The opinions expressed in this column are not those of Scleroderma News, or its parent company, BioNews Services, and are intended to spark discussion about issues pertaining to scleroderma.