Raynaud's Seasonal Changes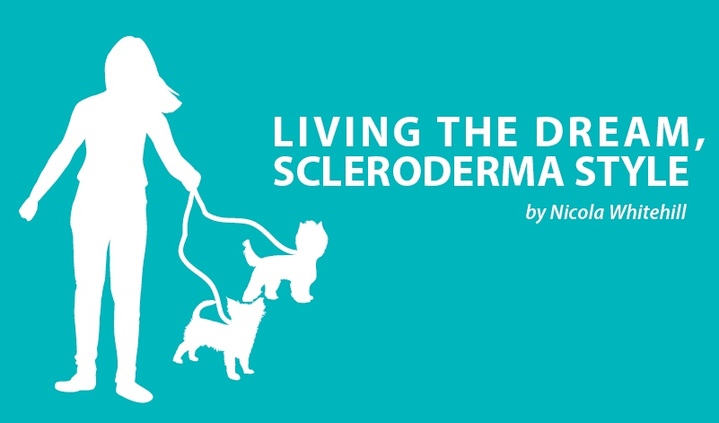 Most scleroderma patients will experience Raynaud's, the narrowing of blood vessels, as a secondary symptom. Raynaud's can sometimes present as the diagnosing feature of scleroderma, however, this was not the case for me. Tight, puffy fingers and intense lethargy along with difficulty in swallowing were my initial symptoms.
Sept. 1 brings a recognized change in season under the meterological calendar. Here in the Northern Hemisphere, the season has now changed to autumn, with spring having arrived in the Southern Hemisphere.
The warmer summer months bring a marginal easing in some of my scleroderma and Raynaud's symptoms, despite the additional "summer symptom" emergence, and my heart still sinks somewhat at the thought of returning to the "Eskimo months."
I use this term as I spend the colder seasons wearing clothes similar to an Eskimo, so many that I have more layers than an onion, with my inner Bond Girl vanished into oblivion!
I am, however, delighted for my Southern Hemisphere fellow patients, who can now start to emerge from their winter hibernation and, in particular, for my brave scleroderma patient friend Silvana!
I wrote about "The Magic of Summer" and the added scleroderma symptoms that are seen with an increase in the weather temperature.
I also discussed in detail the dedication and commitment required to attempt to keep symptoms at a manageable level in The Scleroderma Olympian.
One of my biggest health challenges currently is the management of my Raynaud's involvement. I see color changes in various body parts should I experience the smallest change in temperature, including my nose, ears, hands, and toes.
The wind can also trigger a Raynaud's attack for me, as well as cause severe ear ache that goes all of the way down my jaw line. I have a selection of hats, scarves, balaclavas and gloves in an attempt to minimize any potential Raynaud's trigger by way of the weather. I wear gloves and Ugg boots all year round.
The most sensible solution for me is to remain indoors as much as possible, avoiding any triggers by remaining in a cozy and expensive central heated environment. This is my reality. Even indoors, I can experience a Raynaud's attack by going into a different room, which may be a slightly lower temperature.
In 2003, I lived in Fuerteventura in the Canary Islands for five months to investigate if a warmer temperature and climate would help improve my symptoms. It did, but unfortunately most places were air-conditioned, which makes for a Raynaud's playground!
When preparing food that has required prior refrigeration, I will remove the food from the chiller and then leave it on the counter for 10 minutes or so, to remove the "straight out of the fridge" chill factor.
I am unable to hold anything that has come straight out of the fridge, as this would induce a Raynaud's attack in my fingers. I am not able to hold a glass that has ice in it or is decidedly cold, although, I do make an exception for a glass filled with Laurent Perrier Rose Champagne!
I discussed Raynaud's prevalence in more detail here, as well as the Management of Raynaud's and the differing treatment options used here in the U.K.
For scleroderma patients, it really is advisable to try and be at the top of your game in relation to Raynaud's management, as the loss of blood to the extremities during an episode can make scleroderma skin prone to digital ulcers.
The pain of digital ulcers and their management should be made into an Olympic event for the scleroderma Olympian, as there are no words to describe accurately (even for a professionally qualified advocate such as myself!) the excrutiatingly painful experience that digital ulcers bring.
Thankfully, due to diligent discipline on my part combined with bosentan 125mg twice a day, continuously since October 2012, I no longer experience digital ulcers with the frequency and severity I used to. Believe me, the experience makes you want to make sure that you do not leave yourself susceptible to ulcer heaven.
Here are two previous posts on digital uclers that are worth reading:
https://sclerodermanews.com/blog/2016/06/09/day-9-scleroderma-awareness-month-digital-ulcers/
https://sclerodermanews.com/blog/2016/06/24/day-24-scleroderma-awareness-month-digital-ischaemia-management/
One of the few highlights of my scleroderma and Raynaud's patient experience has been to be a member of the team who compiled the NHS England guidelines for the management of digital ulcers.
Sadly, there is currently no cure for either Raynaud's or scleroderma. Treatment options target symptom suppression only, as the cause still remains a scientific mystery. Stress, though, is recognized as an inducer of Raynaud's.
The fact that Raynaud's can be seen in other autoimmune conditions, as well as present on its own in patients with no autoimmune involvement, shows that its commonality can be maximized for global research investment and improved treatments for all affected patient populations.
Being housebound due to severe Raynaud's is certainly no easy feat for the scleroderma Olympian.
… Living the dream, scleroderma style, hoping for a cure soon.
Note: Scleroderma News is strictly a news and information website about the disease. It does not provide medical advice, diagnosis, or treatment. This content is not intended to be a substitute for professional medical advice, diagnosis, or treatment. Always seek the advice of your physician or other qualified health provider with any questions you may have regarding a medical condition. Never disregard professional medical advice or delay in seeking it because of something you have read on this website. The opinions expressed in this column are not those of Scleroderma News, or its parent company, BioNews Services, and are intended to spark discussion about issues pertaining to SSc.