The SKIN in Scleroderma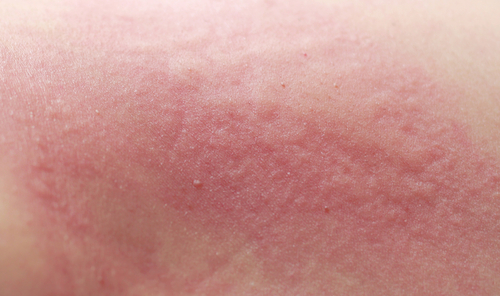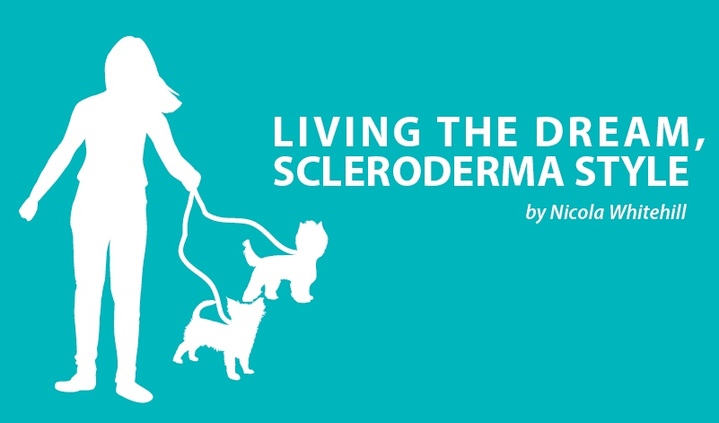 The skin is the largest organ in the body and is affected in most scleroderma patients. The exception to this rule is the limited subset version of scleroderma patients.
On Day 1 in my Scleroderma Awareness Month posts, I focused on the different subsets of scleroderma and their typical symptom presentation.
Here is the visual that I used:
At the time of my diffuse scleroderma (dcSSc) diagnosis in 1997, I presented with extremely tight skin across my chest, arms, hands, face, legs … all over my body. My hands and fingers were puffy with tight, itchy, shiny skin and painful joints. I was unable to make a fist and could not remove bottle tops, the lids of jam jars, or the like, and had other symptoms (joint pain, gastro-intestinal, pain, lethargy, fatigue, and so on).
I discussed  this in my Day 4 Scleroderma Awareness Month post.
After years of chemotherapy and immunsuppressants — I am now 12 years cytotoxic drug free — my skin has reversed to 97% normal healthy skin, according my last medical assessment in May with the dedicated scleroderma world expert Professor Chris Denton.
The Modified Rodnan Skin Score (mRSS) is the standard measurement assessment test used to identify scleroderma skin activity.
A skin score is important because:
Skin score often peaks within one year of dcSSc onset
There is an association between severe skin involvement and burden of organ-based complications
Death or major organ-based morbidity occurs in 50% of dcSSc cases within 3 years of disease onset
Stabalization or improvement in skin sclerosis within 2 years of diagnosis may confound studies designed to prevent skin score worsening
Latent Trajectory Modelling identifies distinct subgroups defined by skin score
To learn more about this, read http://eustar.org/education/2005/3-1_ChrisDenton.pdf
I have a daily symptom management routine that includes bathing and moisturising my skin. For the bath, I use liquid petroleum (Oilatum Plus) and then, after towel drying, I use Hydromol emollient cream all over my body.
I use sensitive skin skincare laundry products and only wear clothing that is soft against my skin. Sadly, my Armani jeans have remained at the bottom of my wardrobe since diagnosis, as denim is too heavy against my skin, causing my inner Bond girl to go AWOL.
As with most things scleroderma-related, nothing is that simple, and although I have regained the elasticity and texture of healthy skin, I am challenged with skin-related symptoms caused by the scleroderma, such as calcinosis, telangiectasia, Bowen's disease, and a possible basal cell carcinoma on my forehead.
I discussed these skin challenges on days 10, 18, 19, 27 and 28 of Scleroderma Awareness Month, all worth reviewing:
The mystery of the calcinosis/basal cell carcinoma (BCC) will be investigated in two weeks time, which I am trying to remain calm about, having had a very impromptu, if brief, meltdown in a phone call with the local dermatologist's secretary to book the appointment last week. I had spoken with this secretary a few years ago, when this calcinosis/BCC mystery commenced its journey, and she remembered me, so luckily she understood that I was having an uncharacteristic, albeit embarrassing, reaction, and she was most kind and supportive. I have already purchased the chocolates to take to her on the appointment day!
I know that most of my fellow patients will wholly understand my little blip when booking another medical appointment due to another complication of scleroderma. I also know that I am very blessed to have gotten to year 19 without a skin biopsy, and I am in awe of my fellow (much braver than I) patients, who have been subjected to skin biopsies when their skin is tight and inflamed.
The small skin patch of Bowen's on my left knee is thought to have been caused by sun damage. I cannot stress enough how important it is to wear sun protection, especially if you are taking — or have taken — any of the chemotherapy and immunotherapy drugs widely used for scleroderma symptom suppression. I went into more detail about this in The Magic of Summer. Read about it here: https://sclerodermanews.com/blog/2016/07/22/the-magic-of-summer/
I discussed my annual monitoring tests previously as well: https://sclerodermanews.com/blog/2016/08/15/scleroderma-annual-check-up-mot/
As with the management of most of my Raynaud's and scleroderma symptoms – prevention is better than cure, since there is no cure.
So, I now avoid being in any direct sunlight in the hope of preventing further unwanted scleroderma skin complications, as, I want to feel good ~ living the dream, scleroderma style.
Note: Scleroderma News is strictly a news and information website about the disease. It does not provide medical advice, diagnosis, or treatment. This content is not intended to be a substitute for professional medical advice, diagnosis, or treatment. Always seek the advice of your physician or other qualified health provider with any questions you may have regarding a medical condition. Never disregard professional medical advice or delay in seeking it because of something you have read on this website. The opinions expressed in this column are not those of Scleroderma News, or its parent company, BioNews Services, and are intended to spark discussion about issues pertaining to SSc.