A Long-Term Scleroderma Patient's Annual Monitoring Tests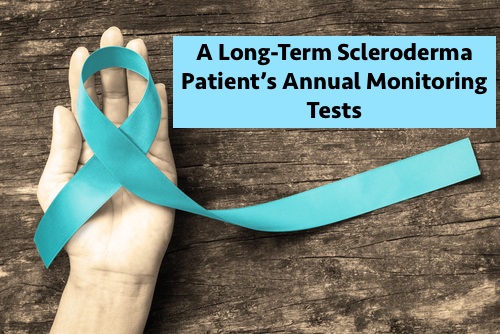 My diary is kept quite busy with medical appointments, which over the years has steadied in frequency due to my symptoms being managed and controlled better. However, should I have a flare with my symptoms, then obviously more medical appointments will follow.
I am extremely grateful for my medical care team, headed up by the scleroderma trail blazer, super human and world expert Prof. Christopher Denton. Due to the complexity of scleroderma, the medical team required for optimum care is quite large, what with all of the differing medical care specialities involved. I went in to more detail about this on Day 30 Scleroderma Awareness month, with Day 3, focusing on the body parts that can be affected.
Day 5 provided information about the diagnostic tests carried out to confirm a scleroderma diagnosis and identify the level if any, of internal organ involvement.
I know that I am an extremely blessed and lucky diffuse scleroderma patient by way of me having minimal internal organ involvement. My skin, musculo-skeletal, and gastro-intestinal system remain as my biggest challenges.
In 2004, I had an endoscopy to assess the damage to my stomach and esophagus, with the results not making for a pleasant image, as my stomach lining was bright red. I have also taken part in eating a barium radioactive meal to assess my stomach emptying, which showed a decrease in motility. I have not repeated these tests since.
I mistakenly opted out of the sedation offered for the endoscopy, in the hope that I would be able to return to work the following day (I was able to work in my dream job, a barrister, back then). How optimistic and wrong I was! I had to take 4 days off work, which was of extreme inconvenience at the time, as my work diary had been booked for weeks' in advance and taking days off from court at the last minute, caused all sorts of problems!
I wrote about how I control my gastro-intestinal issues here.
My scleroderma disease progress level is monitored by medical appointments at the Scleroderma Unit at The Royal Free Hospital in London — check out my JustGiving page for the unit — as well as at my local hospital Southport and Ormskirk District General where I see the lovely Dr. Sykes, Consultant Rheumatologist, and her awesome rheumatology team.
I wrote about the importance of expert scleroderma specialist centres a few weeks ago.
Last week I attended my local hospital for my annual lung and heart test.
My heart test included an ECG (Electrocardiogram), where the electricity or signaling of my heart was tested. Sticky pads were put on my chest and back, which were then wired up to a machine that monitors the electric signaling of the heart.
Obviously, all clothing from waist level up has to be removed for this procedure, which can bring about a Raynaud's attack if the room is too cool or if there is a draft.
The removal of the sticky pads on my skin is quite painful at the end of the procedure. I have a similar experience with plasters / elastobands, and will most often choose to not use them on my skin.
I wrote about my skin sensitivity in a recent post that is worth reading.
After the ECG, comes along the ECHO procedure. This requires lying on your back leaning slightly on the left side. Again, this procedure requires no clothing from the waist up, which may induce a Raynuad's attack.
The attached image shows the equipment used to carry out this investigatory test for the heart. This is an ECHO machine, which requires a trained technician to operate properly. Mark was my technician last week, and to whom I am grateful for his patience, as the body position required to gain the best ECHO results I find to be quite uncomfortable. A plastic microphone-looking object is used to scan the left side of the chest. This is covered in petroleum jelly to allow the electric signal to be conveyed to the machine, which displays an image of your heart on the screen, and luckily my mine was beating satisfactorily with minimum fibrosis and scarring.
My next test was to investigate my lungs, which requires another specific apparatus designed for all aspects of the lungs including gaseous exchange and full lung capacity.
Rachael was my technician for the day, and to whom, like Mark, I am grateful for her patience, whilst I took my time through the tests.
I have been having my annual MOT at my local hospital for over a decade now. I am extremely grateful to Rachael, Mark and the rest of the team, for making these tests as easy / comfortable and patient focussed as possible.
This has helped make this annual scleroderma chore into a more social pleasant experience, as I enjoy seeing the staff and the catching up! And, funnily enough, Rachel had seen me out and about on my electric scooter walking my brown dog Daisy, while my white dog, Mitzy sat on my knee, the week before!
I wrote about my mobility challenges a few months ago.
The lung test takes about 20 minutes in total, at the end of which I was delighted to see that my lung test results had improved slightly from last year. I did not ask for the exact result, as I was so overjoyed that an improvement was seen.
Over the years, I have learnt to not be dictated to by results, but by how I am feeling, and I want to feel good.
I certainly feel awesome knowing that my 2016 heart and lung tests have returned a satisfactory result – another year to get on and enjoy myself, with the tin man body being the focus to exterminate, for a return to wellbeing.
My last article focused on the Scleroderma Olympian, comparing the time, effort, dedication and commitment to be the best athlete, with the desire to have a  scleroderma-free body. The annual MOT tests are all part and parcel of this scleroderma Olympian's preparation. Oh to be fit, healthy and strong again. Living the dream – scleroderma style.
https://sclerodermanews.com/blog/2016/08/03/the-scleroderma-olympian/
Note: Scleroderma News is strictly a news and information website about the disease. It does not provide medical advice, diagnosis, or treatment. This content is not intended to be a substitute for professional medical advice, diagnosis, or treatment. Always seek the advice of your physician or other qualified health provider with any questions you may have regarding a medical condition. Never disregard professional medical advice or delay in seeking it because of something you have read on this website. The opinions expressed in this column are not those of Scleroderma News, or its parent company, BioNews Services, and are intended to spark discussion about issues pertaining to SSc.