#SayScleroderma this month to help raise awareness of chronic disease
Patients, advocates host events, take to social media this June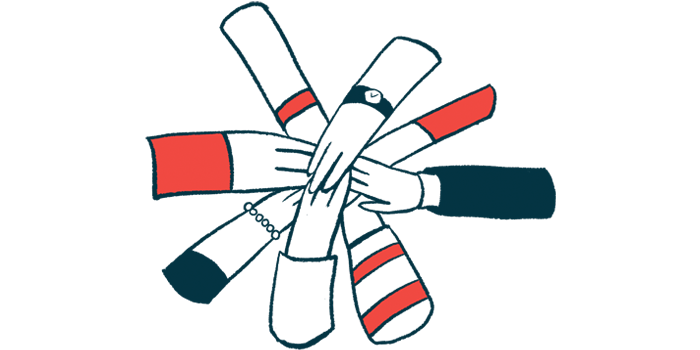 With an emphasis on sparking conversations about the complex chronic autoimmune disease, supporters are observing Scleroderma Awareness Month this June with a host of events and activities — including social media campaigns.
World Scleroderma Day is on June 29.
In addition to the general public, the awareness and fundraising efforts target lawmakers, scientists, public authorities, industry representatives, and health professionals. Approximately 2.5 million people globally have scleroderma, a disease that mostly affects females and which is not thoroughly understood. The chronic disorder affects the skin and connective tissue.
'Let's Talk About Scleroderma' is theme of awareness month this year
For its part, the National Scleroderma Foundation (NSF) is marking the event, which takes place each June, with opportunities to participate in live chats, social media postings, roundtable discussions, awareness month proclamations, structure illuminations, and more. This year's theme is "Let's Talk About Scleroderma."
"Let's Talk About Scleroderma urges our local communities to engage in conversations about scleroderma with those familiar and unfamiliar about this rare disease," the organization notes on an event webpage.
"Anyone can have scleroderma. The cause is still unknown and there is no cure. We can help you find your best path forward," the nonprofit states.
The NSF is inviting supporters this month to join a walk to raise funds for research and to help support patients and families. People can join a nearby Stepping Out to Cure Scleroderma walk, start their own fundraiser, or use the NSF's HOPE Raiser peer-to-peer fundraising platform to host an event.
Participants also are encouraged to take time during June to become a foundation member and to become a public policy advocate on behalf of the scleroderma community. They also are asked to read and share stories from those affected by the disorder.
One such patient, Diane Lee, said on a foundation webpage: "I didn't like talking about the disease to anyone, because the name was hard to say, people didn't know what it was, and it was hard to explain."
The organization also is offering its first #TealTalk series of virtual roundtable discussions as well as live conversations with special guests about the patient journey and other issues of interest to the disease community. All of the events, presented live on Facebook, begin at 12 p.m. ET.  Upcoming dates are June 8, 13, 15, 20, 22, 27 and 29. While the sessions are free, registration is required.
Further, supporters may help raise awareness by getting their state or local government to officially proclaim June as Scleroderma Awareness Month. Advocates also can work to light up U.S. landmarks and prominent structures in teal, the official color of the scleroderma movement.
Foundation urges #SayScleroderma campaign to go on
Awareness month culminates on June 29 with World Scleroderma Day, which will emphasize the need to heighten awareness of scleroderma and to advocate for those affected. The day was selected by the Federation of European Scleroderma Associations to commemorate the celebrated abstract artist Paul Klee, who died of scleroderma in 1940.
During the month, supporters are asked to follow the organization on Facebook, Twitter, Instagram, and LinkedIn, then share the posts on their own social media platforms. Awareness videos and photos are available that underscore this year's theme. The awareness month videos for June will be available on the organization's YouTube channel.
Elsewhere, the Scleroderma Research Foundation is marking the month by sharing stories from patients such as Jamie, who was diagnosed in 2015.
"I do not want future generations to have this bombshell diagnosis dropped on them: 'You have Scleroderma' and have no idea what it means to them," she states on a foundation webpage.
Even when Scleroderma Awareness Month ends, spreading awareness doesn't need to stop. Let's continue to #SayScleroderma, until we one day find a cure.
The #SayScleroderma campaign is highlighting stories from community members and is offering educational content about the disorder and new research. Participants are asked to post a video on social media of themselves pronouncing "scleroderma" and what it means to them. The organization is offering a social media toolkit to facilitate social media efforts.
"Even when Scleroderma Awareness Month ends, spreading awareness doesn't need to stop. Let's continue to #SayScleroderma, until we one day find a cure," the foundation states.