The Few Highs and Many Lows of Living with Scleroderma, Raynaud's, and Other Rare Diseases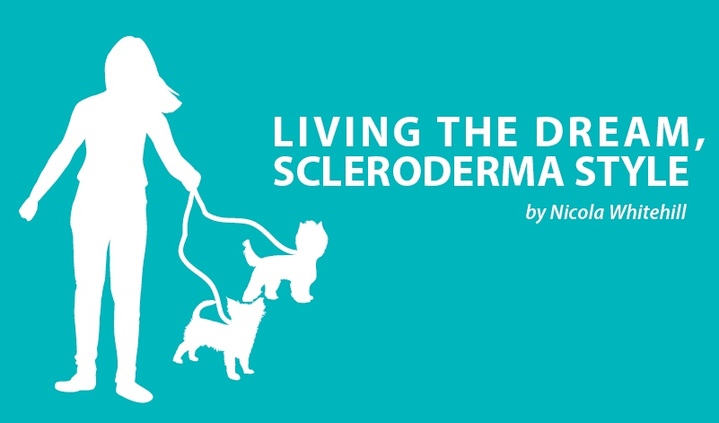 Those life-changing words "you have scleroderma" followed by "and Raynaud's phenomenon" often are met with relief, paradoxically, due to finally having an explanation as to what is happening to your body. And then, within seconds, the reality hits of what those words actually mean and what the future will entail.
Living with a rare disease when there is no cure and limited understanding as to causation most certainly presents many challenges, not just with symptom management, but also lifestyle changes, making for no two days being exactly the same due to the multi-complexity of the disease.
This also makes for no two patients displaying the exact same set of symptoms, adding to a timely diagnosis and ultimately, the disease management process.
My recent patient profile research campaign for Scleroderma Awareness Month 2017 highlighted the necessity for an early diagnosis, along with expert specialist centers for best patient management and care, with access to advanced innovative medicines.
The patients who kindly took part in my campaign all described their day-to-day reality being dominated by their disease management. I have described my full-time job with my symptom management previously.
The highs
#SclerodermaFreeWorld #SclerodermaAwareness #iamscleroderma
I am extremely grateful to those patients who agreed to share their disease process reality for scleroderma awareness month. I had not prepared myself for the emotional roller coaster that the campaign provoked within me, while being reminded of my initial years when compiling each patient's daily reality.
So, although the campaign pulled on my heartstrings, I very much enjoyed the interaction with my fellow patients from all over the world, and remain extremely humbled by their personal strength, tenacity, and bravery with how they manage their disease.
Wyatt the Warrior was the brave scleroderma patient who featured on World Scleroderma Day on June 29. Candace, Wyatt's mom, has recently put together a scleroderma awareness video combining with #iamscleroderma. If you would like to be included please visit the Facebook page and post your photo which can then be uploaded into the video.
Here are my Facebook profile photos:
This video shows to the world as to the amazingly supportive and proactive scleroderma global community we are.
Our global community is most definitely one of my few high points of being on the scleroderma "not-so-fun bus."
Huge thanks go to Candace for all that she does with her efforts for scleroderma awareness. As well as, huge thanks to the Sclero Sisters, Aly and Sheryl, and of course Sharon Esposito for sharing her wonderful creativity for scleroderma awareness Flashback.
I give further detail about my scleroderma and Raynaud's highlights in DAY 12 of the patient profile campaign.
The Lows
Sadly, my word limit for this column will not allow me to fully document the more challenging aspects of living with this rare disease.
Many patients included in the patient profile campaign highlighted not just the disease symptom suppression being difficult, but also the psychological aspect and the effect of the diagnosis on family members and friends.
I have shared some of my personal strategy coping mechanisms via my cosmicfairy444 blog and Facebook page.
However, sadly, the harsh reality of living with this diagnosis, means that you lose fellow patients, who have become dear friends, to the disease.
This happened to me recently, and it has taken me a few weeks to write about my lovely Australian friend Silvana Vidmar, who died on July 22.
I have mentioned Silvana before, in several of my columns, as we used to make a concerted effort to contact each other on the winter and summer solstice.
Sadly, Silvana was not well enough to take part in the patient profiles research campaign of 2017.
Silvana will always hold a special place in my heart. May she be flying high with the angels, pain-free, RIP.
Living the dream, scleroderma style.
Please DONATE to help fund medical research at The Scleroderma Unit, The Royal Free Hospital, London, where 100% of all of your monies will be used for medical research purposes only. Thank You.
#SclerodermaFreeWorld #RaynaudsFreeWorld
#RareDisease #Hope #Belief
Follow Raynaud's Scleroderma Awareness Global Patients Facebook Page for the latest updates.
***
Note: Scleroderma News is strictly a news and information website about the disease. It does not provide medical advice, diagnosis, or treatment. This content is not intended to be a substitute for professional medical advice, diagnosis, or treatment. Always seek the advice of your physician or other qualified health provider with any questions you may have regarding a medical condition. Never disregard professional medical advice or delay in seeking it because of something you have read on this website. The opinions expressed in this column are not those of Scleroderma News or its parent company, BioNews Services, and are intended to spark discussion about issues pertaining to scleroderma.