Skin Tests with Scleroderma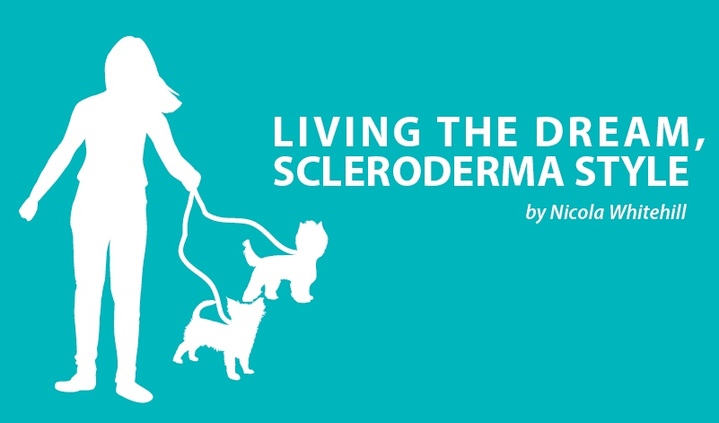 The skin is the largest organ in the body and, more often than not, will be affected by scleroderma, as the name "sclero" — thickening — and "derma" — skin — implies. The exceptions are a SINE scleroderma diagnosis, and a limited scleroderma diagnosis, both of which could present with little or no skin involvement.
I wrote a more general article about skin involvement and the skin symptoms that I presented with, in 1997, a few weeks ago.
One of the usual diagnostic tests carried out to determine a scleroderma diagnosis is a skin biopsy. Other tests, include those which I discussed here.
I am delighted to have avoided a skin biopsy — an invasive, painful test on my scleroderma-tight, sensitive skin — for 19 years now. However, the growing lump on my forehead of the last three years has been a cause for concern and intrigue, especially to me being prone to calcium lumps, which is now one of my long-term scleroderma symptoms. Although calcinosis is not as life threatening as organ damage, it can be extremely painful and contribute to organ damage. It is my view that calcinosis is one of the biggest unmet needs of the stable scleroderma patient. I discussed calcinosis in more detail here.
The lump on my forehead appeared as most of my calcium lumps have appeared — pain and tenderness to the skin at the site of injury, and then gradual discoloration to a white-ish hue, similar to a spot. But they are actually a lot different than spots, as spots can be squeezed and these lumps cannot, and which I have hours of experience of squeezing and prodding — and the scars to show for it.
The start of the red lump can just about be seen (above my right eye) in this photo, which was used for Raynaud's and Scleroderma awareness in The Daily Mail in 2013.
After the lump's appearance, I was referred to my local dermatology clinic for an assessment and measurements. I was advised at this time that a skin biopsy would be an option, in an attempt to identify more about the lump. However, due to my years of experience with calcium lumps, I chose to delay any invasive surgery, mindful that my skin does not repair quickly upon injury, and I'd be left with another scar — this time on my face.
In addition, I am susceptible to infections due to seven years of immunosuppressant use, even though I am now 12 years immunosuppressant-free. Being a long-term patient with a rare disease with no cure and little known about the cause has taught me that "prevention is most certainly better than cure," especially when it comes to avoidable infections, such as coughs and colds.
My gastro-intestinal system is still in recovery from having taken continuous antibiotics for my digital ulcers, prior to taking bosentan, along with the damage to my GI system caused by scleroderma. I wrote about my diet changes here.
As I stated above, I really am elated that I managed to get to year 19 of my diffuse scleroderma diagnosis without having to have a skin biopsy. I am also extremely grateful to the dermatologist, Dr. Tiberiu Bontea, at Ormskirk General Hospital (my local dermatology center), for his expertise and patience over the last 18 months, while I plucked up the courage to have the procedure, as advised from the outset.
On the day of the procedure, I was very much comforted knowing that Dr. Bontea had taken into account my scleroderma "special needs" — tight skin and compromised blood supply, combined with slow healing tissue repair issues — and so he used a type of anesthetic that would not cause extra contraction of my blood vessels (lignocaine).
The medical requirement of this procedure shows the importance and need of a "shared care multidisciplinary approach" for best practice and care for the scleroderma patient. I wrote about the necessity of expert specialist centers here.
The entire procedure took about 20 minutes, with only slight discomfort at the point of entry of the needle administering the anesthetic, lasting a minute or so. Dr Bontea kindly let me look at the "specimen," prior to it being sent for further testing. It did not look like a calcium lump.
I am extremely grateful to Dr. Bontea and the nurses for making the procedure as pleasant as it could be. In addition, I am very grateful for my fellow long-term scleroderma survivor and friend, Leyla, for her support, when I was having to accept that the biopsy road was the only avenue available, and of course, thank you to all of my Facebook global scleroderma friends for your comments and support, and for sharing your personal experience of this scleroderma "added extra."
This photo was taken at the end of the procedure, and four days later there is little change. In the meantime, I am under "house arrest" in an attempt to provide the best conditions for a "speedy" healing-recovery. Living the dream, scleroderma style.
Note: Scleroderma News is strictly a news and information website about the disease. It does not provide medical advice, diagnosis, or treatment. This content is not intended to be a substitute for professional medical advice, diagnosis, or treatment. Always seek the advice of your physician or other qualified health provider with any questions you may have regarding a medical condition. Never disregard professional medical advice or delay in seeking it because of something you have read on this website. The opinions expressed in this column are not those of Scleroderma News or its parent company, BioNews Services, and are intended to spark discussion about issues pertaining to multiple sclerosis.