'Celebrating' 20 Years of Being a Patient at the Scleroderma Unit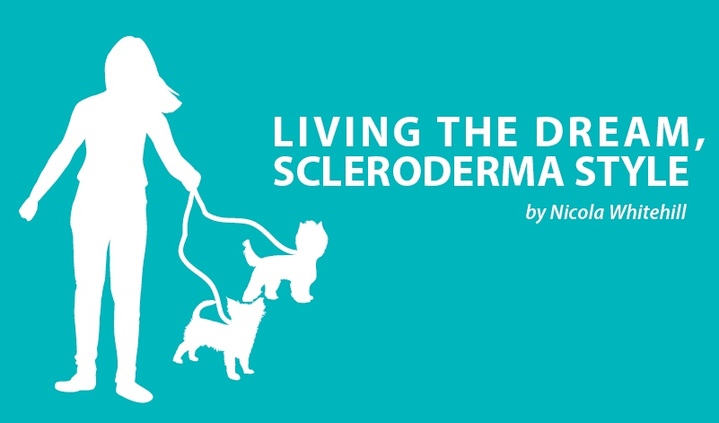 This week, I am celebrating my 20th year since first dragging my "tin-man" body to the Scleroderma Unit at the Royal Free Hospital in London.
The previous year, at the time of my initial diagnosis in September 1997, I was told that I had a 15-month prognosis, due to the aggressive attack the diffuse form of the disease was having on my body.
Experts told me that scleroderma has no cure, and treatments targeted symptom suppression in a "hope for the best" kind of way. The treatments were steroids, chemotherapy, and immunosuppressants.
The year after first hearing those life-changing words, "You have scleroderma," I took all of the standard treatments in an attempt to suppress disease activity. By December 1998, I was in a very bad way. My body was stiff and weak; I was in constant, excruciating pain, and my skin was extremely tight.
I then started a new medication regimen that included IV cyclophosphamide infusions, along with mycophenolate mofetil (MMF) tablets. Thankfully, doctors removed my name from the stem cell transplant waiting list.
A daily dose of 2 g of MMF for five years stabilized my symptoms. That was stopped in March 2004, upon achieving my personal career goal of becoming a practicing barrister.
I am now 14 years chemotherapy-and-immunosuppressant-free. I take bosentan for my Raynaud's and control my GI symptoms with a strict diet.
In November 2016, I was delighted to hear Prof. Chris Denton advise me that my skin was cured of scleroderma. I am eternally grateful to Prof. Denton and the National Health Service dream team for keeping me alive.
However, I know that I am a "lucky" scleroderma patient in the sense that I have minimal internal organ damage and continue to survive, although my full-time job is to look after and respect my symptoms.
I am mindful to avoid any situations that will exacerbate a flare in my symptoms. Prevention is better than cure, as there is no cure for scleroderma — yet.
Over the years, I have been privileged to be an advocate on the global stage for raising awareness of scleroderma, Raynaud's, and other rare diseases.
My highlights include a BBC radio interview in 2013 where I spoke about my methods for coping with such a life-changing diagnosis. The Daily Mail newspaper featured me in 2013. I also made a presentation at the British Society for Rheumatology's annual conference in 2015 and to the European Parliament that year.
I am honored to be a columnist here at Scleroderma News, and I am privileged to be a patient research ambassador with the National Institute for Health Research. Check out this video and my recent addition to the "hall of fame." Medical research provides immense hope for a #SclerodermaFreeWorld.
Recently, I was appointed a patient and public voice for specialized dermatology by the National Health Service England's Clinical Reference Group. I am delighted about this role. That position is in addition to my specialized rheumatology role at the same organization, and my part at the European Medicines Agency's Committee for Orphan Medicinal Products.
However, my "tin man" body, along with chronic fatigue and mobility challenges, remain constant sources of frustration. This year has been particularly challenging for me due to extra complications such as skin cancer, dental issues, calcinosis, and an index finger ulcer.
During my global patient profile campaigns for Scleroderma Awareness Month in 2017 and 2018, every patient said that Raynaud's and digital ulcers were continual problems for them.
Other unmet clinical needs that patients have in common include:
For optimal patient care, the following are essential:
I'm living the dream, scleroderma style.
Follow:
Facebook: Raynauds Scleroderma Awareness — Global Patients
Twitter: @SclerodermaRF and @RaynaudsRf
Google Plus: Raynauds scleroderma awareness global
Use the hashtags #SclerodermaFreeWorld and #RaynaudsFreeWorld.
Please donate to help fund medical research at the Scleroderma Unit of the Royal Free Hospital, London.
One-hundred percent of raised funds will be used for medical research purposes only. Thank you.
Please consider leaving a gift for life-saving medical research at the Scleroderma Unit. Thank You.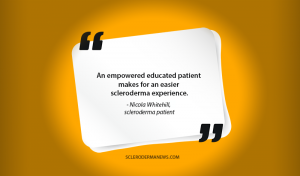 ***
Note: Scleroderma News is strictly a news and information website about the disease. It does not provide medical advice, diagnosis, or treatment. This content is not intended to be a substitute for professional medical advice, diagnosis, or treatment. Always seek the advice of your physician or other qualified health provider with any questions you may have regarding a medical condition. Never disregard professional medical advice or delay in seeking it because of something you have read on this website. The opinions expressed in this column are not those of Scleroderma News or its parent company, BioNews Services, and are intended to spark discussion about issues pertaining to scleroderma.