October Is Raynaud's Awareness Month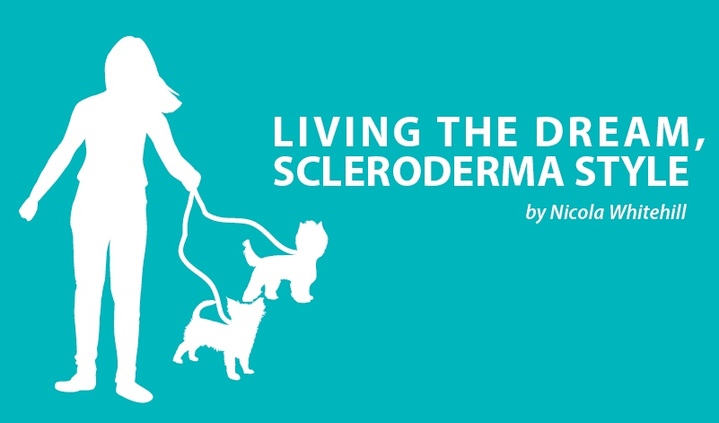 Sunday, Oct. 1, was the start of #RaynaudsAwarenessMonth 2017.
As scleroderma patients, we know all too well how debilitating and painful the symptoms of Raynaud's can be. In addition, the symptom control of the added extras, caused by a lack of blood supply in the scleroderma patient, include digital ulcers and calcinosis, to name just two.
Every patient who kindly took part in my global patient profiles and research campaign for Scleroderma Awareness Month 2017, reported Raynaud's to be a problem and difficult to manage.
Awareness about Raynaud's
Nearly every scleroderma patient will have Raynaud's symptoms, and some patients report Raynaud's as the initial symptoms leading to their scleroderma diagnosis.
Raynaud's is the narrowing and constriction of the blood vessels to the extremities, hands and feet, as well as other body parts.
Raynaud's can be present on its own, known as primary, or it can be secondary to another diagnosis, for example, scleroderma.
Raynaud's is secondary in other autoimmune patients, for example, in lupus, as well as in patients who have worked in an industrial environment (for example, vibration white finger), and in a patient whose body has been subjected to intense hypothermic conditions (military operations personnel, for example).
My Raynaud's reality
My Raynaud's sensitivity is so severe that an attack can be induced by just moving from one room to another, indoors!
My symptoms are easier to manage by avoiding any temperature change.
Should I have to go out, I must wear appropriate clothing. My inner "Bond Girl" absconded years ago, so now I'm forced to wear Ugg boots and full clothes even in the summer.
On Sept. 27, I had the pleasure of attending my monitoring appointment with my hero, world expert Chris Denton, PhD, of the Scleroderma Unit, the Royal Free Hospital, London.
Moving my "tin man body" for this 12-hour BIG day out takes weeks of preparation as well as recovery. I still remain in the fragile zone.
But it is always an honor and an extremely humbling experience to attend the Scleroderma Unit, and meet with other patients. (A huge thank you to Deani Baillie.) As well as continue to impress Denton with my symptom reversal after 20 years of first having heard those life-changing words: "You have scleroderma and Raynaud's."
I was delighted that my trip coincided with a lovely, warm 20-degree Celsius (68 F) autumn day in London. This enabled me to have my photo taken for a second, with me wearing just my T shirt, without me losing blood circulation to my hands or feet. I had two fleece jackets and a raincoat with me, and I was wearing my winter "biker Ugg boots," with thick Thinsulate socks, and gloves, of course.
For my best Raynaud's symptom management, I have found that prevention is better than cure. Indeed, there is no cure. The only medication I take is bosentan,125 mg twice a day, which has reduced my digital ulcer frequency.
I also visited Dr. Kevin Howell, who celebrates his 25th anniversary working for the NHS this year. Howell is a world expert on Raynaud's. Every patient who visits the Raynaud's Unit will be familiar with his horrendous bucket of ice cold water upon their initial visit.
It is 19 years since I originally plunged my hands into his bucket and I still cringe at the excruciating pain this caused, triggering a Raynaud's attack in my hands.
The image below shows the heat transmitted by a normal, non-Raynaud's individual, following the ice-bucket hand challenge, compared to that of a Raynaud's patient, seen in the middle and right-hand images within the frame.
A specific camera, a capillaroscopy machine, is then used to assess any permanent damage to the capillaries and blood vessels.
We desperately need a cure for Raynaud's.
#RaynaudsFreeWorld
To ADD the Raynauds Awareness Month Twibbon:
Living the dream, Raynaud's and scleroderma style.
Follow Raynauds Unit Royal Free Hospital Facebook Page for latest updates, and,
raynaudsscleroderma.blogspot.co.uk
Please DONATE to help fund medical research at The Raynaud's Unit where 100 percent of all of your money will be used for medical research purposes only. Thank you.
#SclerodermaFreeWorld #RaynaudsFreeWorld
***
Note: Scleroderma News is strictly a news and information website about the disease. It does not provide medical advice, diagnosis, or treatment. This content is not intended to be a substitute for professional medical advice, diagnosis, or treatment. Always seek the advice of your physician or other qualified health provider with any questions you may have regarding a medical condition. Never disregard professional medical advice or delay in seeking it because of something you have read on this website. The opinions expressed in this column are not those of Scleroderma News or its parent company, BioNews Services, and are intended to spark discussion about issues pertaining to scleroderma.