A New Year and New Challenges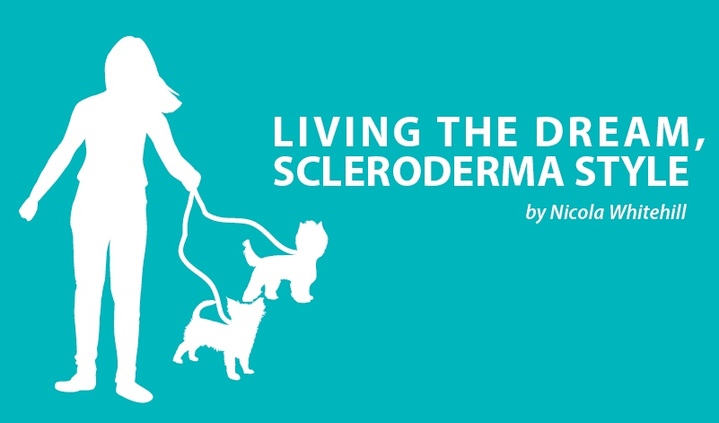 I survived the holidays! As fellow patients living with chronic, degenerative, rare diseases know all too well, there is no holiday from our daily myriad symptoms. The holidays can be isolating and difficult, as sometimes I am physically unable to join festivities.
I am hypervigilant about avoiding situations that include infection risks. I am 14 years free of immunosuppressants and chemotherapy but my immune system remains weakened. On a "normal day," my body feels as though it has the flu thanks to musculoskeletal aches.
Over here in the Northern Hemisphere, we have entered winter. Winter is my nemesis season; mentally and physically, this is my most challenging time.
Delightedly, I survived Christmas without medical crises and emergency medications. However, the holiday season did include scleroderma surprises. On Christmas Day, my right hand flared; a huge lump of solid and liquid calcium oozed out. The pain nauseates me. The calcium continues to ooze and my joints remain inflamed, swollen, and painful.
I am right-handed so this new calcium challenge really is on another level of management frustration. I can't stretch or move my hand without screaming in pain. I must avoid getting the area wet so that the skin tissue does not become infected and create a digital ulcer.
2018, recapped
2018 was particularly challenging for me due to extra complications such as skin cancer, dental issues, calcinosis, and an index finger ulcer. Additionally, my "tin man" body, chronic fatigue, and mobility challenges remain constant sources of frustration.
Last year on Christmas Day, I developed a very painful shingles rash that covered my abdomen and back. This kept me under "house arrest" for most of 2018. Disappointingly, that forced me to avoid the annual family day for the Scleroderma Unit at The Royal Free Hospital in May. (This year's annual event will be May 18.)
I was sad to miss meeting the lovely family of the late Kevin East, who held a charity golf day and fundraised £2,000 ($2,560). They've held many other very kind and generous fundraisers for medical research at the Scleroderma Unit to the benefit of fellow patients.
Kevin's death anniversary was two days ago, so please hold his family in your prayers.
In 2018, I celebrated 20 years of being a Scleroderma Unit patient. I am eternally grateful to Prof. Chris Denton and the National Health Service (NHS) for keeping me alive.
I was disappointed that I couldn't attend the charity boxing match in memory of Chris Milan. Huge thanks to Ben Milan for raising an enormous £34,873.80 for medical research at the Scleroderma Unit.
For the new year, I continue to advocate
I've talked at length about unmet clinical needs during my global patient profile campaign for Scleroderma Awareness Month in 2017 and 2018. Telangiectasia, sclerodactyly hands, and gastrointestinal symptoms also are common among patients.
In 2019, I continue to push for optimal patient care, which includes:
Blessed to be a long-term scleroderma survivor and Olympian, I spend most of my spare time (when not tending to my symptoms) committed to pursuing a scleroderma-free world and Raynaud's-free world.
In 2018, I was honored to become a patient research ambassador with the National Institute for Health Research. (Here's a video, and a "hall of fame" article.) I was also thrilled to be appointed as a patient public voice in the NHS England Clinical Reference Group (CRG) for specialized dermatology. These roles are in addition to my NHS England CRG specialized rheumatology role and my European Medicines Agency patient expert role.
I very much want to wish you a most prosperous 2019. Thank you for supporting medical research.
Living the dream, scleroderma style.
Check out these resources
Please donate to help fund medical research at the Scleroderma Unit of the Royal Free Hospital, London. All raised funds will be used for medical research purposes only. Also, please consider leaving a gift in your will for medical research at the Scleroderma Unit. Thank you.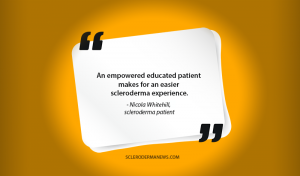 ***
Note: Scleroderma News is strictly a news and information website about the disease. It does not provide medical advice, diagnosis, or treatment. This content is not intended to be a substitute for professional medical advice, diagnosis, or treatment. Always seek the advice of your physician or other qualified health provider with any questions you may have regarding a medical condition. Never disregard professional medical advice or delay in seeking it because of something you have read on this website. The opinions expressed in this column are not those of Scleroderma News or its parent company, BioNews Services, and are intended to spark discussion about issues pertaining to scleroderma.