Medical Research and Raising Awareness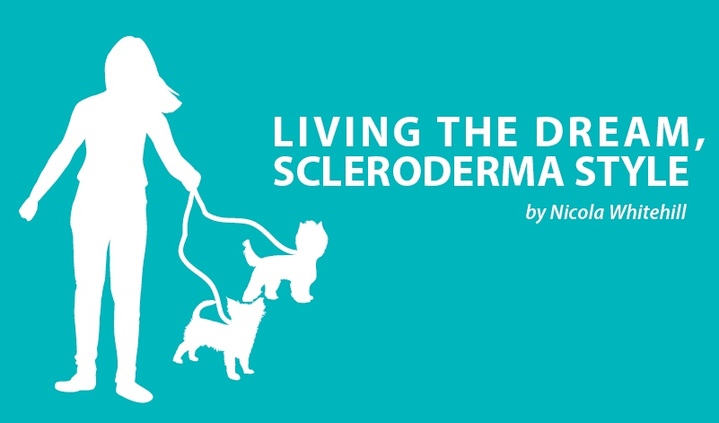 Spring has reluctantly arrived over here in the United Kingdom. An increase in the temperature is most welcome, even if it is only marginal due to my location. To make it out of winter without a body crisis by way of flare-ups or the like is, quite frankly, a miracle — a miracle I did not obtain. Despite my voluntary "house arrest" commenced in fall, I still have not managed to escape the wrath of the cold winter months unscathed.
Winter really is my nemesis season.
This winter, I have had numerous health challenges in addition to my scleroderma and Raynaud's "carte blanche" symptoms. Even after living with my scleroderma diagnosis for 21 years, the disease continues to amaze me with surprises, and not in a good way! So far this year, my Pandora's box of symptoms have included shingles and my Bowen's disease skin flare.
Additionally, I've had dental inflammation and more recently, a very nasty digital ulcer on my right index finger (my chief typing finger).
Sadly, as I could no longer cope with the pain, I had to take a week's course of flucloxacillin, which triggered my GERD symptoms.
However, when I went to see the wonderful global scleroderma trailblazer Prof. Chris Denton for my routine appointment recently, he was, and remains, delighted with my progressing return to well-being.
My consultation appointment is the only time that I am content to be described as "stable" or "normal," as it's voiced by a person whose opinion I respect and value. I feel truly blessed to be under the care of such a scleroderma pioneer and medical expert.
Next month, I will be celebrating my 20th year of being a patient at the world expert Scleroderma Unit at The Royal Free Hospital during the annual Family Day on Saturday, May 19, 2018. This event is held in the hospital atrium and is free to anyone with interest in scleroderma or Raynaud's.
I have written extensively over the course of the last two years, using my column here at Scleroderma News, about how crucial expert specialist centers and multidisciplinary medical "dream teams" are for best practice and management of this autoimmune rare disease.
When I was given those three life-changing words, "You have scleroderma," back in the autumn of 1997 at age 24, I was also told that I was looking at "a 15-month prognosis, at best." At that time, both of my parents were very supportive in attending the resulting never-ending medical appointments.
In December 1998, I dragged my "tin-man body" to the Scleroderma Unit at The Royal Free Hospital. Extensive tests followed to ascertain the severity of the disease progression. During these tests, my parents kindly accompanied me. At that time, I would have never believed that 20 years later, I would still be attending the unit, without my parents — whom I outlived. To top it, my "skin is cured of scleroderma."
My recent clinical appointment was the first time that I went to the unit as an "orphan." Thankfully, thoughts of my reality were suppressed by the very welcome company of Lauren and Christine from the National Institute for Health Research.
This was an ideal opportunity for me to discuss my new role as a patient research ambassador for The Royal Free Hospital dermatology and musculoskeletal departments. Plus, Lauren and Christine are better-looking company than my parents, haha!
I also had the pleasure to meet with fellow patient Jeanie, "Miss Universe," whom I have "known" via Facebook for a while!
Above is a photo of us all. Living the dream.
I am very much looking forward to developing my new role, especially given that an investment in medical research is crucial to improving the scleroderma, Raynaud's, and autoimmune rare disease patient experiences. In the meantime, awareness of our daily plights and health challenges provides a perfect spotlight for the multitude of our unmet clinical needs.
Huge thanks go to ALL of the global patients who kindly took part in my Autoimmune Disease Awareness Month (#ADAM) patient profiles campaign.
The campaign showed that for best practice and care:
expert specialist centers
access to innovative medicines
… are imperative.
Living the dream, scleroderma style.
Please DONATE to help fund medical research at The Scleroderma Unit, The Royal Free Hospital, London.
One hundred percent of your money will be used for medical research purposes only. Thank you. #HOPE
***
Note: Scleroderma News is strictly a news and information website about the disease. It does not provide medical advice, diagnosis, or treatment. This content is not intended to be a substitute for professional medical advice, diagnosis, or treatment. Always seek the advice of your physician or other qualified health provider with any questions you may have regarding a medical condition. Never disregard professional medical advice or delay in seeking it because of something you have read on this website. The opinions expressed in this column are not those of Scleroderma News or its parent company, BioNews Services, and are intended to spark discussion about issues pertaining to scleroderma.