Gastroparesis Awareness Month: Tests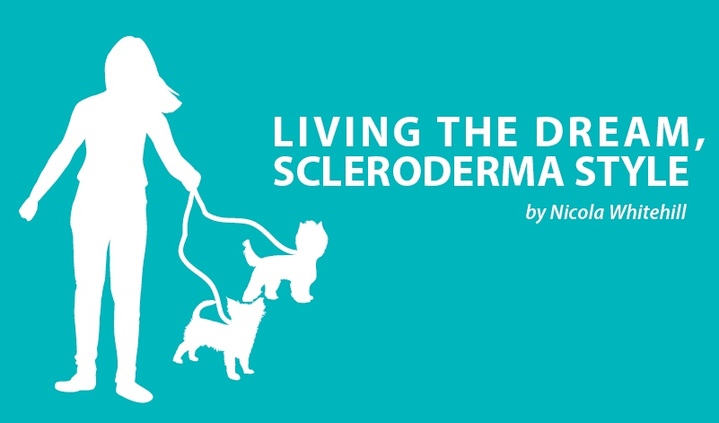 August is Gastroparesis Awareness Month.
In this column, I highlight some of the tests carried out to determine stomach damage levels and the overall productivity of the digestive system process.
Gastroparesis occurs when the stomach cannot pass food down to the small intestine, thereby halting much of the digestion process.
Most scleroderma patients report gastrointestinal involvement presenting as debilitating symptoms, including bloating, acid reflux, constipation, diarrhea, vomiting, feeling full after a few mouthfuls of food, nausea, etc.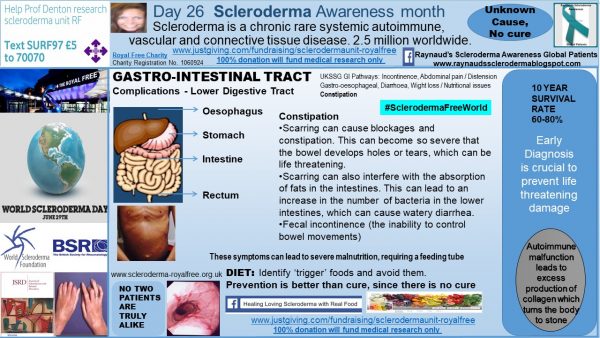 At the time of my 1997 diagnosis, my main symptoms were tight skin, combined with stiff and swollen joints.
When attending the Royal Free Hospital's Scleroderma Unit for the first time, some 12 months later, I struggled to drag my body anywhere, and my skin was super tight and itchy.
During that time, my gastro symptoms were more of a mild inconvenience, compared to the high maintenance and demanding symptoms they are now.
I do, however, remain overjoyed that my skin is cured of scleroderma — I hadn't been able to stretch my arms since 1997.
Back in 2004, I underwent several tests to assess any internal damage to my esophagus stomach lining, and overall gastrointestinal system.
The first of these tests was an endoscopy. In this procedure, a tube with a camera at the end (endoscope), was inserted down my esophagus via my throat, through to my stomach. I had, foolishly, opted for not having a sedative throughout the procedure, in the hope that I could return to work later that day, as I was still working as a barrister at that time.
The whole procedure was a nightmare from start to finish. Due to scleroderma, I struggled to open my mouth wide enough for long enough to allow the tube insertion. "Swallowing" the tube was very difficult. The image showed my stomach lining was extremely inflamed and red. I did not return to work for a few days.
Another test, carried out separately, required me to eat a "radioactive pancake." The taste was "OK." After marked time intervals, I was assessed by a machine that measured how long it took for my digestive system to process the pancake.
I have opted out of a repeat of these tests, as the experience still haunts me! I am hoping that my strict diet and juices will continue to keep my gastrointestinal symptoms at a tolerable level.
Thankfully, my symptoms are currently stable. I have regular monitoring appointments. These include annual heart and lung tests. I am now living with the damage caused by the disease at its most active.
Juices and a strict diet are most definitely the way forward for me to feel better. I have scleroderma-induced gum recession, making chewing very difficult, and a constant dry mouth, so soft foods only!
The two juices I have daily are a vitamin C smoothie and a green juice.
My lovely American friends, Kelli Schrag ("Healing Loving Scleroderma with Real Food" — Facebook Page), Dr. Susan Nyanzi, and Roy Louden, plus U.K. patient Vanessa Cummings have seen improvements with their symptoms from a diet change. A few months ago, Australian patient Margie Kugler became one of the first scleroderma patients to have a gastric stimulator fitted.
In a few weeks, on his birthday, our little hero Wyatt the Warrior is due to have a gastric stimulator fitted. Please hold Wyatt and his family in your prayers. Stay strong, Wyatt!
Nearly all of the patients included in my Scleroderma Awareness Month 2017 and 2018 campaigns, reported gastrointestinal symptoms, as one of their many current health challenges.
Other unmet clinical needs include:
Investment in medical research is crucially needed. To further this mission, I am honored to be a patient research ambassador with the National Institute for Health Research.
I've observed that optimum patient care requires:
I'm living the dream; scleroderma style.
Follow:
Use the hashtags #SclerodermaFreeWorld and #RaynaudsFreeWorld on social media.
Please donate to help fund medical research at the Scleroderma Unit at the Royal Free Hospital in London.
100 percent of raised funds will be used for medical research purposes only. Thank you.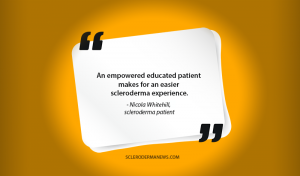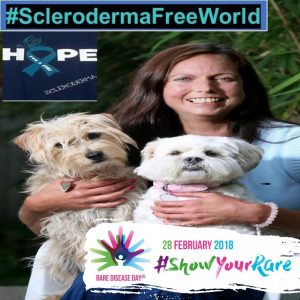 ***
Note: Scleroderma News is strictly a news and information website about the disease. It does not provide medical advice, diagnosis, or treatment. This content is not intended to be a substitute for professional medical advice, diagnosis, or treatment. Always seek the advice of your physician or other qualified health provider with any questions you may have regarding a medical condition. Never disregard professional medical advice or delay in seeking it because of something you have read on this website. The opinions expressed in this column are not those of Scleroderma News or its parent company, BioNews Services, and are intended to spark discussion about issues pertaining to scleroderma.