The Importance of a Multidisciplinary Medical 'Dream Team'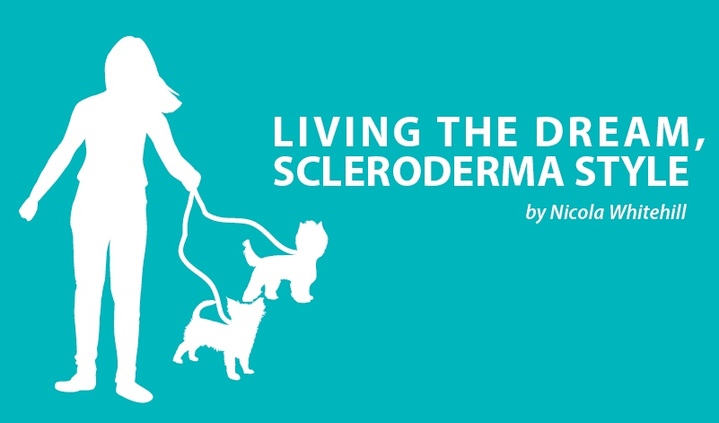 In a few weeks, it will be my 20th anniversary of first hearing those life-changing words: "You have scleroderma," followed by, "and Raynaud's phenomenon. There is no cure. Your disease is so aggressive that you are looking at 15 months, maximum. Forget being a barrister."
I have written about my initial diagnosis experience, as well as the full-time job of my symptoms management, previously.
Last November, I was elated to hear the world scleroderma and Raynaud's medical expert, Professor Chris Denton, my hero, tell me that my skin is now cured of scleroderma.
I am convinced that this "medical miracle" achievement (again, Denton's words) was made possible by my being blessed to be under the care of a medical dream team, comprising many medical professionals from different disciplines, with Denton as the medical expert lead.
For the final day of my Scleroderma Awareness Month 2016 campaign, I discussed my medical dream team personnel in more detail.
As we know, there are no two scleroderma patients who present with the same set of symptoms, and I am lucky to only have minimal internal organ involvement, so my dream team is possibly not as big as the dream team for other patients.
Over here in the U.K., I am eternally grateful for the National Health Service. The exceptional medical care and expertise which I have received, has, without doubt, kept me alive.
I specifically chose the subject of research and best practice patient care for my Scleroderma Awareness Month 2017 campaign, patient profiles, in recognition of the excellent medical care which I have received, showing that an expert specialist center is crucial to achieving the best outcome for the patient.
In the last month, I have been living the dream by being occupied, more so than normal, with attending medical appointments. I am extremely grateful that the majority of these are local to me.
This removes the immense physical exertion of dragging my "tin man body" to appointments at the expert center scleroderma unit at the Royal Free Hospital in London only a few times a year, with my local NHS service providing my interim follow-up care.
I am extremely grateful to Dr. Hannah Sykes, consultant rheumatologist and the rheumatology team at my local hospital, Southport and Formby District General Hospital. I am monitored by Sykes in between my appointments with Denton, which has been essential to me managing my symptoms optimally.
Furthermore, I will always remain very grateful to Sykes for inviting me to present to and educate rheumatology's new intake of junior doctors about the diagnosis, over the course of several years.
I am now 13 years immunosuppressant-free. The only medication I take is Bosentan. I have to attend the rheumatology clinic (run by the lovely Denise and Eils, the rheumatology nurses), for bi-monthly blood tests to monitor my Bosentan levels.
Even now with healthy skin, having a blood test is an unpleasant experience. But Michelle and the phlebotomists at the hospital are always understanding.
I am also very grateful to Dominic Williams, tissue viability nurse, for all of his help and advice on the best care for my digital ulcers and calcinosis.
Another valued member of my medical dream team is Andrea, the pharmacist at the outpatient department. Andrea has been exceptional in obtaining tablets for me that I can swallow, as my esophagus has been damaged by scleroderma.
Each year, my lungs and heart are monitored at the annual MOT.
Huge thanks to technicians Rachael and Mark for their continued patience with me during the tests!
Another crucial subset of my medical dream team is my GP's practice. In particular, I am grateful to Dr. Tim Irvine and Dr. Chris Randall for their continued support with my not-so-urgent, but still relevant, symptoms management.
I am extremely honored to be able to share my patient expert experience by being a patient voice on the NHS England group for rheumatology, helping with the U.K. treatment guidelines and U.K. digital ulcer management guidelines.
Living the dream, scleroderma style.
Please DONATE to help fund medical research at the Scleroderma Unit, the Royal Free Hospital, London, where 100 percent of all of your money will be used for medical research purposes only. Thank you.
#SclerodermaFreeWorld #RaynaudsFreeWorld
#RareDisease #Hope #Belief
Follow Raynaud's Scleroderma Awareness Global Patients Facebook page for the latest updates.
***
Note: Scleroderma News is strictly a news and information website about the disease. It does not provide medical advice, diagnosis, or treatment. This content is not intended to be a substitute for professional medical advice, diagnosis, or treatment. Always seek the advice of your physician or other qualified health provider with any questions you may have regarding a medical condition. Never disregard professional medical advice or delay in seeking it because of something you have read on this website. The opinions expressed in this column are not those of Scleroderma News or its parent company, BioNews Services, and are intended to spark discussion about issues pertaining to scleroderma.