Scleroderma Awareness Month: Shining a Spotlight on Our Disease This June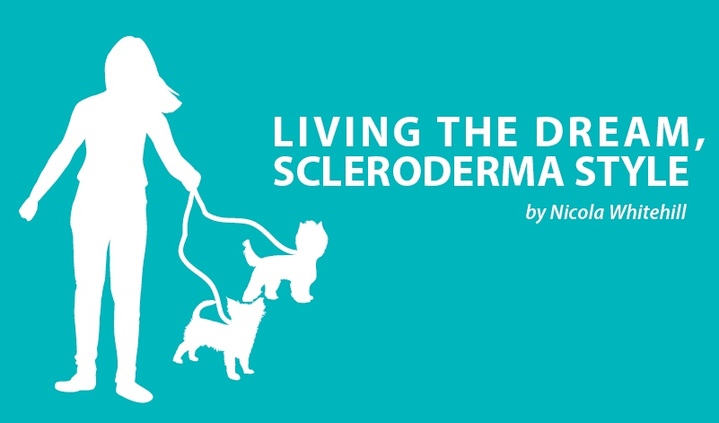 June 1 marks the start of Scleroderma Awareness Month, with World Scleroderma Day falling on June 29. This is our opportunity to raise awareness of this rare disease in all of its guises.
We can spend the month fundraising for research or raising awareness of the disease. This is our chance to put a spotlight on the rare disease we live with 365 days a year, with no holiday break, and with hope and pain as constant companions.
Here are some flashbacks to previous awareness campaigns: 2017 and 2016.
Sadly, this Scleroderma Olympian did not make it to the Scleroderma Unit Family Day which took place on May 19 at the Royal Free Hospital in London. As heart-wrenching as it was, I had to make the executive decision that I was unable to attend this informative annual event, due to a combination of current health issues, which would have been exacerbated by the physical exertion of a BIG day out.
My body is still recovering from my shingles outbreak at Christmas, and remains in the "fragile zone."
My Raynaud's sensitivity keeps me under house arrest all year round. Staying at home, I can try to minimize the number of daily attacks by maintaining a constant temperature.
The digital ulcer which appeared in March, on my right index finger, remains in situ, along with the constant, agonizing pain.
Even after 20 years, the reality of living with this '"fun snatcher" disease, continues to be a constant symptom-juggling, management challenge. My diary is kept busy with the multiple medical appointments. For me, managing my symptoms, combined with fatigue, mobility challenges, and my nutrition regime is a full-time job!
I was very disappointed to have missed Prof. Chris Denton present a plaque to Debby, the late Kevin East's wife, and Michelle, one of their daughters, at the event.
Debby, her family, friend Ryan MacDonald and other friends, organized a charity golf day last summer, and they raised an amazing £2,000 for medical research at the Scleroderma Unit, The Royal Free Hospital. The plaque will be placed on the side of a specialized freezer unit used for medical research, which the donation money helped to purchase.
Huge thanks and eternal gratitude go to Debby and Ryan for such a kind and generous donation. Due to the success of the day, the event will be held as an annual extravaganza, in Kevin's memory.
I had the pleasure of meeting Kevin, in the Scleroderma Unit, several months before his passing. We were in the medical imagery department, having photographic images taken to assess the progression of the disease. Seeing the tightness of Kevin's skin took me back to 1997, the year of my diagnosis.
I remember showing Kevin how I could now stretch my arms and that my skin was slowly regaining its elasticity, hoping he would have similar success with the treatments. We joked together that, at least we now had a "claim to fame," as Prof. Denton had requested the images, intending to include them in a textbook about scleroderma.
Fellow patients dying from the disease is especially heartbreaking and difficult for me to take in. However, I know that I am blessed to have made it to my 21st year. This knowledge supercharges my efforts in utilizing my skills in the best way I can to help achieve my ultimate dream — a scleroderma-free world.
The awareness month, along with World Scleroderma Day, are our golden tickets (opportunities) to making the ultimate dream a reality.
This year, 2018, an online Facebook event has been created for World Scleroderma Day by U.K. patient Lizzy. Liz and I have shared some of our creations which we have previously made for awareness purposes, and fundraising.
We hope to collect fellow patient creations and combine them to make a video, similar to this video. Here is my self-made pattern and creation (a bobble hat with the scleroderma ribbon):
Please get involved and share your photos!
Living the dream, scleroderma-style.
Follow:
Facebook Page: Raynauds Scleroderma Awareness Global Patients
Twitter: @SclerodermaRF  @RaynaudsRf
Google Plus:  RaynaudsSclerodermaAwarenessGlobalPatients
#SclerodermaFreeWorld           #RaynaudsFreeWorld
Please DONATE to help fund medical research at The Scleroderma Unit, The Royal Free Hospital, London. 100 percent of the raised funds will go toward medical research only. No wages or admin costs. Thank you.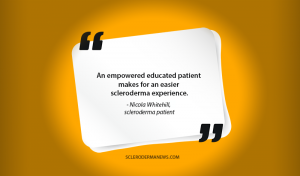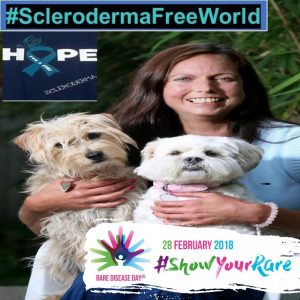 ***
Scleroderma News is strictly a news and information website about the disease. It does not provide medical advice, diagnosis, or treatment. This content is not intended to be a substitute for professional medical advice, diagnosis, or treatment. Always seek the advice of your physician or other qualified health provider with any questions you may have regarding a medical condition. Never disregard professional medical advice or delay in seeking it because of something you have read on this website.