Scleroderma Awareness Month 2017: Patient Profiles Campaign, Week 1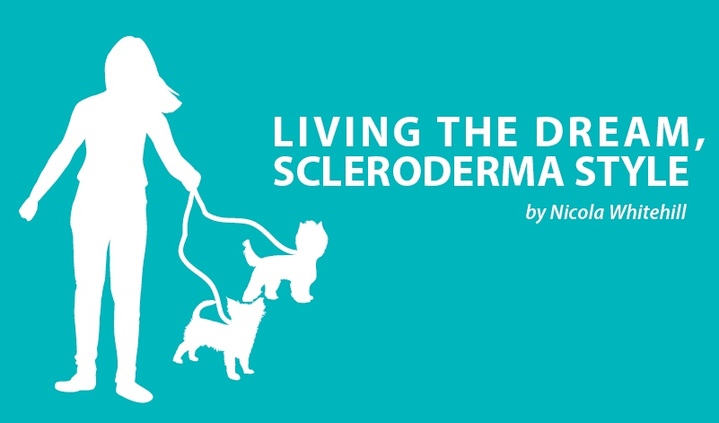 Scleroderma Awareness Month runs through the month of June, with June 29 designated as World Scleroderma Day. On June 1, I launched my Scleroderma Awareness Month 2017 "Patient Profiles" campaign. In this column, I hope to provide a résumé of the information shared so far, along with current research on treatment options and strategies.
For this year's Scleroderma Awareness Month campaign, I chose to further the Rare Disease Day theme of "Research – Where Possibilities Are Limitless."
All in all, I feel extremely blessed, as this autumn I will be celebrating my 20-year anniversary since hearing those life-changing words, "You have scleroderma," accompanied with, "You will be in a wheelchair by Christmas," and, "You are looking at a maximum of 15 months." (Read more about my experience and why research is important here.)

As a long–term patient living with a "stable" form of the disease, where symptom management makes for a full–time job, medical research into the cause and cure of this "life hijacker" of a disease is the golden light at the end of a very long and dark diagnostic tunnel.
However, it is unlikely that the discovery of a cure will benefit me directly because I am living with the aftermath of an aggressive form of the diffuse type. I am forever grateful for the medical expertise of the superhuman scleroderma trailblazers Prof. Dame Carol Black and Prof. Chris Denton, who stopped my disease progression after I gained their medical opinion in December 1998.
I still remain in a state of euphoria after being told by Denton 19 years later, in November 2016, that my "skin is now cured from scleroderma." This is especially so considering that when I first dragged my "tin–man body" to the Scleroderma Unit expert center for the first time in 1998. I was unable to stretch my arms due to skin tightening. I also had skin tightening and itching over my entire body, feeling as if my skin had "shrunk in the wash." This is a most horrendous feeling and one that I struggle to articulate.
My body has shown that a return to healthy, normal skin can be achieved, further to an aggressive form of the disease being halted by way of chemotherapy and immunotherapy intervention. I am now 13 years chemo-immunosuprressant free. I only take bosentan (125 mg )twice a day, which has made a huge improvement with my digital ulcers.
I show that the disease process can be halted and eradicated if diagnosed early enough, whereby treatments still remain an option and no internal life-threatening damage has been caused.
By putting the patient profiles information together, not only does the content show how breathtakingly awe-inspiring and strong these individual patients are in living with their daily reality, but also the best approach for scleroderma and Raynaud's disease management on a global scale.
The plethora of unmet clinical needs for this patient type is also illuminated, with a common thread running throughout: An urgent need for investment in clinical research as to the cause and cure. I have detailed more about unmet clinical needs here.
When I first thought about the campaign, I had no idea how humbling the entire experience would be for me in connecting with fellow patients across the world, all sharing the same vision for a #SclerodermaFreeWorld.
I also thought that scleroderma had left me tear-free years ago, not just from my Sjogren's overlap, but because it seemed there were no tears left in me as I was all cried out from the entire scleroderma "not-so-fun bus."
However, reading fellow patients' stories, along with their current realities, certainly reopened my tear floodgates and evoked some of my personal memories from the early years. (Albeit, I know that my scleroderma and Raynaud's experience has been a breeze compared to some of my fellow patients.)
See: 2017 INDEX Scleroderma Awareness Campaign Patient Profiles
The cause as to why my body wanted to do this to itself remains one of my personal billion-dollar questions, making me dedicated to using the remainder of my life in pursuing an answer, in the hope that the #SclerodermaFreeWorld dream becomes a reality.
Thank you for all of your support so far. Please comment below.
Over the course of Scleroderma Awareness Month, I will be highlighting the current unmet clinical needs and the current medical research understanding as published in The Journal of Scleroderma and Related Disorders.
Follow Raynaud's Scleroderma Awareness Global Patients' Facebook Page for latest updates, as well as here at Scleroderma News.
Living the dream, Scleroderma style
#SclerodermaFreeWorld #RaynaudsFreeWorld
#RareDisease #Hope #Belief
Please donate to help fund medical research at The Scleroderma Unit, where 100% of all of your monies will be used for medical research purposes only. Thank You.
***
Note: Scleroderma News is strictly a news and information website about the disease. It does not provide medical advice, diagnosis, or treatment. This content is not intended to be a substitute for professional medical advice, diagnosis, or treatment. Always seek the advice of your physician or other qualified health provider with any questions you may have regarding a medical condition. Never disregard professional medical advice or delay in seeking it because of something you have read on this website. The opinions expressed in this column are not those of Scleroderma News, or its parent company, BioNews Services, and are intended to spark discussion about issues pertaining to scleroderma.