'You Should Get Out More'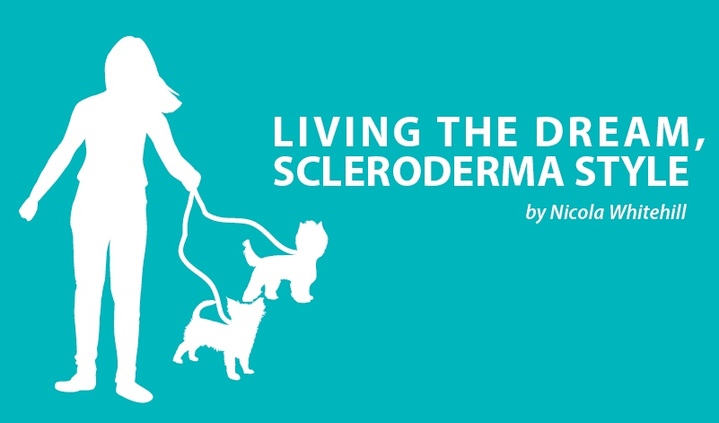 "You should get out more."
These words of advice were recently given to me by a friend, a non-scleroderma patient. I am sure this friend  meant well. But on the cusp of my 20-year anniversary since my initial diagnosis, I know that I am the best judge of what I should be doing, to minimize my daily symptom severity and assist my body with its return to well-being.
I am eternally grateful to my medical care dream team, and the world expert Chris Denton, who is my clinical lead doctor. Still, my current reality is that optimum symptom management is my full-time job.
Living with a rare disease that is multi-complex in its approach makes for a busy diary filled with medical appointments. I am a lucky scleroderma patient with only minimal internal organ damage, so I can keep my medical appointments to a minimum. The effort that goes into moving my tin man body means it has to prepared and planned for days in advance, like the Scleroderma Olympian.
Having had an adventure out, whether to attend a medical appointment or do grocery shopping, means my body will be in protest for a few days after. It's accompanied by an overwhelmingly level of fatigue, which must be respected to minimize my pain severity and protect mobility.
Ah, great, another day to spend in bed is certainly not one of my favorite mantras; however, I know that this will be the inevitable following of any major physical exertion to "get out more," including living the dream being your own Raynaud's scleroderma, rare disease advocate.
I also have to remind myself that my job today is to simply get better. I have a strict daily regime to assist with my return to well-being, including my skin care routine and my diet.
Upon waking, it takes me three hours to be physically ready to exit my front door.
Following a big day out in London, it takes me 10 days of intense rest to return my body to my daily routine regime. All of this makes me a time-management connoisseur.
As all scleroderma patients, I am sure, will be able to relate, there is no precise science to predicting which symptoms will flare or appear on day-to-day. This fluctuation is exacerbated by the weather temperature or  time of year. Here in the U.K., we are approaching the end of summer. I am trying to not wail at the thought of my house arrest daily reality, because of the upcoming seasons.
My Raynaud's symptoms are so severe that the magic of summer brings only marginal improvements. These include feeling warmer and not having to wear as many layers of clothes. Sadly, my inner Bond Girl is still suppressed by the year-round Ugg boots and gloves, essential accessories.
For me, the seasonal change brings along a different set of symptoms, including skin that does not feel as soft. But I continue to remain in a state of elation that my skin is cured of scleroderma.
My skin is very sensitive to clothing materials, making my preferred outfits pajamas or sweat pants. This is not because I am lazy, this is because these items of clothing are most comfortable against my skin.
The actual process of getting dressed becomes a whole new feat with a scleroderma body, made worse with depleted energy levels. All of this must be accounted for in preparation for getting out more.
This month, I have several dates for which I am fine-tuning my body. These include the U.K. Aortic Dissection Awareness Day on Sept. 19, as well as my monitoring appointment with Denton at the expert specialist center Scleroderma Unit, the Royal Free Hospital. So that is a BIG day out, with the following two weeks blocked out in my diary, in preparation for my body's protest.
And then, October is Raynaud's awareness month. Follow the Raynaud's Scleroderma Awareness Global Patients Facebook page for the latest updates on the awareness campaign.
And, as for being told to get out more, I remain independent of the good opinion of others, CosmicFairy444.
Living the dream, scleroderma style.
Please DONATE to help fund medical research at the Scleroderma Unit, The Royal Free Hospital, London, where 100% of all of your money will be used for medical research purposes only. Thank you.
#SclerodermaFreeWorld #RaynaudsFreeWorld
#RareDisease #Hope #Belief
***
Note: Scleroderma News is strictly a news and information website about the disease. It does not provide medical advice, diagnosis, or treatment. This content is not intended to be a substitute for professional medical advice, diagnosis, or treatment. Always seek the advice of your physician or other qualified health provider with any questions you may have regarding a medical condition. Never disregard professional medical advice or delay in seeking it because of something you have read on this website. The opinions expressed in this column are not those of Scleroderma News or its parent company, BioNews Services, and are intended to spark discussion about issues pertaining to scleroderma.