Week 2 Scleroderma Awareness Month: Patient Profiles 2017, Progress in Medical Research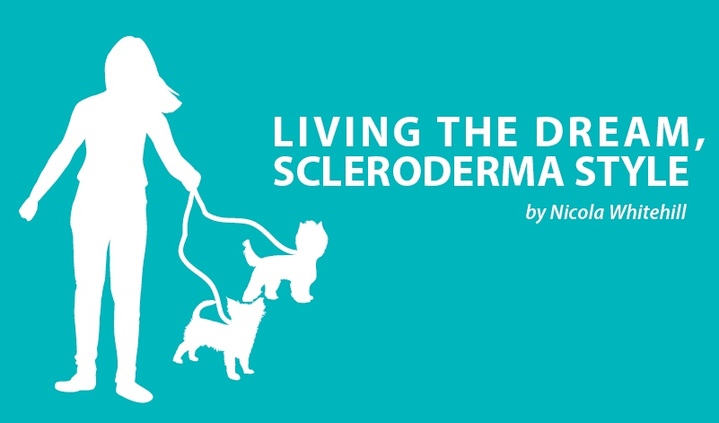 To further the theme of Rare Disease Day 2017 being "Research, where possibilities are limitless," I made the focus of my Scleroderma Awareness month campaign, "Research," while also focusing on unmet patient clinical needs. By giving the campaign a global approach I hope that an improved practice guide for treatment and management can be devised.
My scleroderma diagnosis
I am extremely grateful and very much humbled by the stories of the patients who have taken part in the 2017 Scleroderma Awareness month campaign. I did not envisage the trip down memory (or rather, nightmare) lane, back to my first seven years after my initial diagnosis. During this time my symptoms were out of control, attacking my body with a vengeance.
This year marks my 20th anniversary from first being diagnosed with scleroderma, followed with a 15-month prognosis. Every day I remain in a state of awe that I have defied my diagnosing doctor's expectations.
I am convinced that I am still here today so I could be the scleroderma parrot I have become, due to the expertise of the specialized Scleroderma Unit at the Royal Free Hospital. In particular, the superhuman beings, Dame Professor Carol Black and Professor Chris Denton. I attended here in December 1998 after having been first diagnosed in September 1997.
I am now 13 years chemo- and immunosuppressant-free, with my skin having reversed to normal healthy skin. The only medication I take is bosentan 125 mg twice a day, in an attempt to reduce my digital ulcers. I have seen a marked improvement in my hands since taking this medication. I was honored to be a member of the medical team that devised the NHS England Guidelines for treating digital ulcers in scleroderma, published in 2015.
Research and studies
Every patient who has been featured in the campaign so far has referred to digital ulcers and Raynaud's. They also have included their current reality in relation to treatment and management. Most patients take a cocktail of numerous cytotoxic medications, and have to attend so many medical appointments that it becomes their full-time job.
In relation to the cause of scleroderma, due to the disease belonging to the autoimmune family, research understanding is focused around the immune response with various cytokines (chemical substances) acting as biomarkers. So, in essence, the higher the level of the biomarker, the more aggressive/active the disease. Further studies are required to confirm this understanding more, as well as to identify all biomarkers involved.
This approach is very encouraging for determining a speedy timely diagnosis, in the hope to prevent any life-threatening damage, while keeping treatments options available.
Clearly, there is much room for improvement in relation to the treatments currently used for managing the disease. The treatments are acting only on symptom suppression, at best.
Last year, the paper "Emerging strategies for treatment of systemic sclerosis" was published in the Journal of Scleroderma and Related Disorders (Vol. 1 Issue 2, May-Aug 2016, pages 177-240). This paper includes all of the differing approaches being investigated in trying to understand the immune response involved in the scleroderma process. You can read my synopsis of the paper here.
Scleroderma Awareness Month 2017, Patient Profiles Campaign
The annual Scleroderma Family day was held last month at the Scleroderma Unit, The Royal Free hospital, London. Corrado Campochiaro, MD, honorary clinical fellow in rheumatology, gave a presentation on "Personalized medicine approaches in Scleroderma," where he detailed current understanding as to the biological markers that are prevalent for a diagnosis, along with gene expression for such.
The 5th Systemic Sclerosis World Congress  is scheduled to take place Feb. 15-17,  2018 in Bordeaux, France. This bi-annual event is the hub of the most up-to-date understanding of the entire scleroderma disease process.
Overall, an improvement in the medical understanding as to the nature of the disease has improved immensely over the course of the past decade. However, due to the multi-complex body systems involved in the disease process, research still falls way behind with providing an understanding of the cause.
Please donate to my Just Giving page for the Scleroderma Unit, Royal Free Hospital, where 100% of your donation will be used for research purposes only. Thank You.
Follow 'Raynauds Scleroderma Awareness Global Patients' Facebook Page, for latest updates, as well as here at SclerodermaNews.
Living the dream, Scleroderma style
#SclerodermaFreeWorld #RaynaudsFreeWorld
#RareDisease #Hope #Belief
***
Note: Scleroderma News is strictly a news and information website about the disease. It does not provide medical advice, diagnosis, or treatment. This content is not intended to be a substitute for professional medical advice, diagnosis, or treatment. Always seek the advice of your physician or other qualified health provider with any questions you may have regarding a medical condition. Never disregard professional medical advice or delay in seeking it because of something you have read on this website. The opinions expressed in this column are not those of Scleroderma News, or its parent company, BioNews Services, and are intended to spark discussion about issues pertaining to scleroderma.