I've Found My Own Scleroderma Tooth Fairy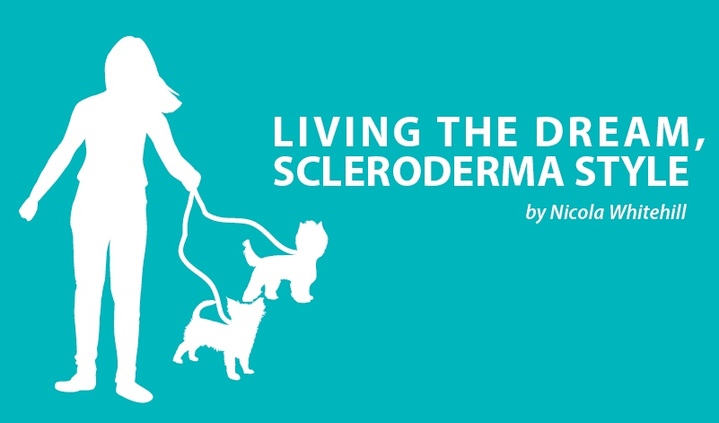 Here in the Northern Hemisphere, the summer holidays have finished. However, as scleroderma patients, we know all too well that we do not have a holiday from this diagnosis.
More often than not, the management of the multi-complex symptoms makes for a full-time job. I have previously likened my experience to that of an Olympic athlete.
However, this year, I feel that my experience has been more like a circus performer as I'm juggling the many demands my disease brings.
Although the warmer temperature during the summer months is most welcome, a different set of symptoms present themselves, with pain, fatigue, and "tin man body" being a constant.
I try not to let the seasonal change from summer to autumn sadden me. I know that I will have to prepare for battening down my hatches, and a return to my polar-style outfits.
This year, I have been very fragile, having started the year with shingles. At the start of spring, I wrote about the Pandora's box of this rare disease and my skin cancer experience. I also wrote about my ongoing dental issues due to my diagnosis.
In this column, I will focus on the dental and oral implications of this disease and my recent dental visits. Tightening of the skin on the face, combined with shrinkage to the soft tissue around the mouth and lips, causes thinning of the lips and deep lines around the mouth.
This change in facial shape and appearance can cause multiple complications, including tooth loss due to the recession of the gums and tooth root reabsorption. A dry mouth symptom can lead to mouth infections and tooth abscesses. Mouth opening can be very difficult, so a patient, understanding, and scleroderma-informed dentist is needed.
I am extremely grateful to my dentist, Dr. Andrew Booth, and dental hygienist, Louise Doran, for their continued patience and expertise. I see Louise every three months, combined with appointments with Andrew every six months. However, this schedule is often interrupted because of an emergency appointment due to a flare caused by an infection.

Day 28 Scleroderma Awareness Month 2016.
Day 18 Scleroderma Awareness Month 2016.
I have difficulty holding a toothbrush due to the physical limitation in my hands and fingers. Over the years, I have developed gum recession, which is excruciatingly painful and requires tooth extractions and results in increased susceptibility to infection due to a continually dry mouth.
I am devastated to have had three tooth extractions due to scleroderma. However, in the bigger picture, I know that this is a small irrelevance compared to some of the organ devastation that other patients experience.
Throughout this year, my gum recession has deteriorated. Last week, during my appointment with Louise, I nearly passed out. I had pain shooting across my face, along to my ear, caused by the exposure of my teeth's roots, due to gum recession.
After a few days' of recovery, Andrew very kindly applied a sealant over the exposed part of the teeth. So far, this has proved successful, and I am elated to be "face-ache free."
I am extremely cautious with the foods I eat, choosing softer, easier-to-chew foods, as my best option. The scleroderma tooth fairy is not having my two front teeth or any more of my teeth! Dental and mouth involvement is most definitely a current unmet clinical need.
Several of the patients included within my Scleroderma Awareness Month 2017 and 2018 campaigns reported dental and gum symptoms as one of their many current health challenges.
Other unmet clinical needs include:
Investment in medical research is crucially needed.
I am honored to be a patient research ambassador with the National Institute for Health Research.
Overall, for optimum patient care:
In the meantime, I continue to remind myself that my job today is to simply get better, with the scleroderma tooth fairy away, on a permanent holiday.
Living the dream, scleroderma style.
Follow:
Facebook Page: Raynauds Scleroderma Awareness Global Patients
Twitter: @SclerodermaRF  @RaynaudsRf
Google Plus:  RaynaudsSclerodermaAwarenessGlobalPatients
#SclerodermaFreeWorld           #RaynaudsFreeWorld
Please DONATE to help fund medical research at The Scleroderma Unit, The Royal Free Hospital, London.
100 percent of your monies will be used for medical research purposes only. Thank You.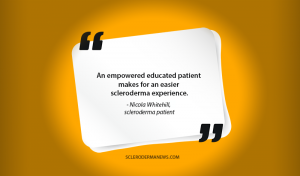 Coming Up: October is Raynaud's Awareness Month
***
Note: Scleroderma News is strictly a news and information website about the disease. It does not provide medical advice, diagnosis, or treatment. This content is not intended to be a substitute for professional medical advice, diagnosis, or treatment. Always seek the advice of your physician or other qualified health provider with any questions you may have regarding a medical condition. Never disregard professional medical advice or delay in seeking it because of something you have read on this website. The opinions expressed in this column are not those of Scleroderma News or its parent company, BioNews Services, and are intended to spark discussion about issues pertaining to scleroderma.