Looking Back on This Year's Invisible Disabilities Week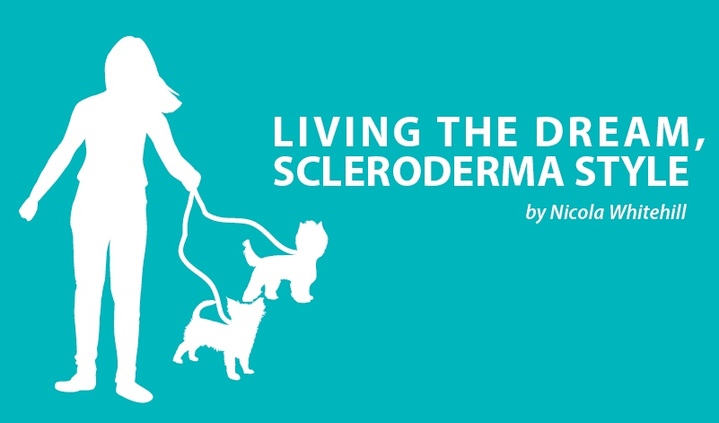 Invisible Disabilities Week took place from Oct. 14-20. The Invisible Disabilities Association explains how those with invisible disabilities can be misunderstood:
"People often ask us to define invisible disability. To define invisible disability in simple terms is a physical, mental or neurological condition that limits a person's movements, senses, or activities that is invisible to the onlooker. Unfortunately, the very fact that these symptoms are invisible, can lead to misunderstandings, false perceptions and judgments."
Invisible Disabilities UK describes an invisible disability as one "that cannot be seen, [and] may not require a wheelchair, crutches or a blue badge."
Raynaud's and scleroderma symptoms are not often obvious to the untrained eye, so these diseases can be classified as "invisible disabilities."
My "tin man" body, along with chronic fatigue and mobility challenges, remain constant sources of frustration, making managing my symptoms a full-time job.
I remind myself daily that I am a "very lucky patient," for I have now reached my 21st anniversary since my diagnosis. At that time, I was given a 15-month prognosis due to the aggressive nature of the diffuse form of the disease I have.
I am eternally grateful to Professor Chris Denton and the U.K.'s National Health Service for keeping me alive, as well as my other dream team members.
Sadly, I cannot remember my last pain-free day. On Christmas Day 2017, I developed shingles, and the lingering pain from this illness has zapped the wind from my sails. I am reluctant to take the recommended medications because of the side effects I experience, including vomiting and blackouts.
"Ah great, another day to spend in bed," is not my favorite mantra. However, people kindly say, "But you look so well."
This "invisible" aspect also impacts my independence and interactions with the general public. I recall one particular experience. I was invited to present at the British Society for Rheumatology's annual conference in 2015. The event that year was held in Manchester, 40 miles from Southport (where I live) and directly connected by rail.
During my travel adventures via public transport, my "invisible disability" has caused me humiliation. Perhaps I should wear a sign around my neck, Paddington-style, or maybe get a teal ribbon tattoo.
As patients living with a rare degenerative disease, we have an optional duty to educate and raise awareness.
This scleroderma Olympian is in training to maximize the hibernation season of winter: I'm planning a busy 2019 raising awareness of scleroderma, Raynaud's, and the urgent need for investment in medical research.
October is Raynaud's Awareness Month and the time of year for my 50 shades of blue "party trick."
During my global patient profiles campaign for Scleroderma Awareness Month 2017 and 2018, every patient detailed how Raynaud's and digital ulcers were a continual problem.
Other unmet clinical needs that patients have in common include:
I am honored to be a patient research ambassador with the National Institute for Health Research. I have recently been added to their Ambassador stories.
Overall, for optimum patient care, the following hallmarks preside:
In the meantime, I continue to remind myself that "my job today is to simply get better," with hope and my canine diva dream team as my constant companions.
Living the dream, scleroderma style.
Raynaud's Awareness Twibbon for social media.
Follow:
Facebook Page: Raynauds SclerodermaAwareness Global Patients
Twitter: @SclerodermaRF  @RaynaudsRf
Google Plus:  RaynaudsSclerodermaAwarenessGlobalPatients
#SclerodermaFreeWorld           #RaynaudsFreeWorld
Please donate to help fund medical research at the Raynaud's Unit in The Royal Free Hospital, London. Click here to donate to the Scleroderma Unit.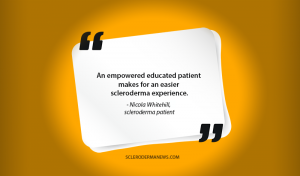 ***
Note: Scleroderma News is strictly a news and information website about the disease. It does not provide medical advice, diagnosis, or treatment. This content is not intended to be a substitute for professional medical advice, diagnosis, or treatment. Always seek the advice of your physician or other qualified health provider with any questions you may have regarding a medical condition. Never disregard professional medical advice or delay in seeking it because of something you have read on this website. The opinions expressed in this column are not those of Scleroderma News or its parent company, BioNews Services, and are intended to spark discussion about issues pertaining to scleroderma.