Scleroderma: March Is Autoimmune Disease Awareness Month
In an autoimmune disease, the body's natural defense system, the immune system, malfunctions or "trips out," resulting in the body attacking itself.
The American Autoimmune Related Diseases Association lists over 100 different currently identified autoimmune diseases.
With the rare disease scleroderma, the body's autoimmune system becomes activated, causing fibrosis, or thickening, of the skin, blood vessels, muscles, connective tissue, bones, and internal organs. In essence, the ENTIRE body is attacked.
Currently, this activation process — the "on switch" — is still not fully understood scientifically. And, sadly, neither is the "off switch." Current treatments target symptom suppression as opposed to disease eradication. Investment in medical research is crucial for progress in scientific understanding.
Common symptoms for most of the autoimmune diseases include tiredness by way of extreme exhaustion, swelling, and inflammation of the body and joints, hair loss, and of course, PAIN. This makes for the daily mantra "Ah great, another day to spend in bed."
These presenting symptoms can often lead to a slow diagnosis. Which can lead to further complications that may be life-threatening.
Another commonality that presides among the autoimmune disease community is the "invisible disability" label. For, most autoimmune patients, including scleroderma patients, hearing "But you look so well" is a welcome compliment. But it can be extremely frustrating when the reality is that you feel quite the opposite.
Some patients have told me of their frustration of not being believed as to the severity of their "invisible symptom," not just by their families, but also by the medical professionals.
A common symptom seen within the autoimmune disease community is the presence of Raynaud's phenomenon. However, not all Raynaud's patients will have an autoimmune condition. This is when it is known as primary Raynaud's.
When Raynaud's presents with another condition, for example, an autoimmune disease, it is known as secondary Raynaud's.
Throughout March, for Autoimmune Disease Awareness Month, I have been reposting the global patient profiles from my scleroderma awareness 2017 campaign.
All of the patients who kindly took part reported experiencing Raynaud's, along with digital ulcers. All of the patients reported exhaustion, swelling, and pain to be ongoing unmet clinical needs.
The British Society for Rheumatology (BSR) has a clear strategy to try to improve the current treatment for such patients.
Rare rheumatic musculoskeletal diseases can be categorized into two distinct groups:
–Rare autoimmune rheumatic diseases, comprising:
Systemic vasculitis (eg. ANCA-associated vasculitis, giant cell arteritis, Takayasu's arteritis, Behçet's syndrome)
Autoimmune connective tissues diseases (eg. systemic lupus erythematosus, systemic sclerosis (scleroderma)

, myositis, Sjogren's syndrome)
–Rare non-autoimmune rheumatic diseases, comprising:
Metabolic, sclerosing, and dysplastic bone diseases (eg. osteogenesis imperfecta, fibrous dysplasia, hyperostosis syndromes, SAPHO syndrome)
Dysplastic diseases of joints and inherited disorders of connective tissue (eg. epiphyseal dysplasias, Ehlers-Danlos syndromes, Marfan syndrome, Stickler syndrome). '
The BSR recommends that:
"This group of patients can be best served, along with the implementation of the UK Rare Disease Strategy, by being considered under a single 'umbrella.'" This is because they share a number of common features, including:
Overlapping clinical and serological features
Similar disease mechanisms, many of which have an origin in immune system abnormalities
Convergent treatment pathways, immunosuppression, B-cell depletion, or cytokine inhibition
The multisystem nature of these conditions often requires simultaneous care across several specialties
Multidisciplinary "one-stop shop" clinics enabling greater cost efficiency and clinical effectiveness
In common with other rare diseases, these conditions are also slow to benefit from therapeutic advances.
I had the pleasure and honor to present the Raynaud's and scleroderma patient's reality at the BSR Conference in 2015.
BSR 2018 Conference, May 1-3, Liverpool, U.K.
BSR published scleroderma management guidelines, June 2016.
Huge thanks to the current president, Dr. Peter Lanyon, for his outstanding commitment to the rheumatological community as a whole.
Future key events for this year include Family Day at the Scleroderma Unit, May 19, which this scleroderma Olympian is already in training for!
Clearly, there is a large need for improvement in the medical and clinical care of the autoimmune patient, and even more so for the rare disease autoimmune patient that has scleroderma.
However, for best practice and care:
Where MEDICAL RESEARCH investment is VITAL.
Living the dream, scleroderma style.
Please DONATE where 100 percent of your donation will be used for medical research purposes only. Thank You.
#SclerodermaFreeWorld #RaynaudsFreeWorld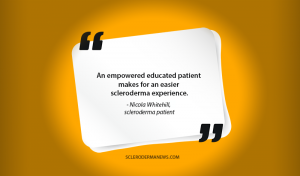 Follow Raynauds Scleroderma Awareness Global Patients Facebook Page for latest updates
Twitter: @SclerodermaRF @RaynaudsRf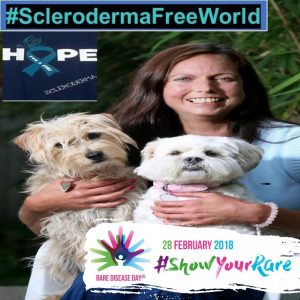 ***
Note: Scleroderma News is strictly a news and information website about the disease. It does not provide medical advice, diagnosis, or treatment. This content is not intended to be a substitute for professional medical advice, diagnosis, or treatment. Always seek the advice of your physician or other qualified health provider with any questions you may have regarding a medical condition. Never disregard professional medical advice or delay in seeking it because of something you have read on this website. The opinions expressed in this column are not those of Scleroderma News or its parent company, BioNews Services, and are intended to spark discussion about issues pertaining to scleroderma.