Bringing Awareness to Gastroparesis This Month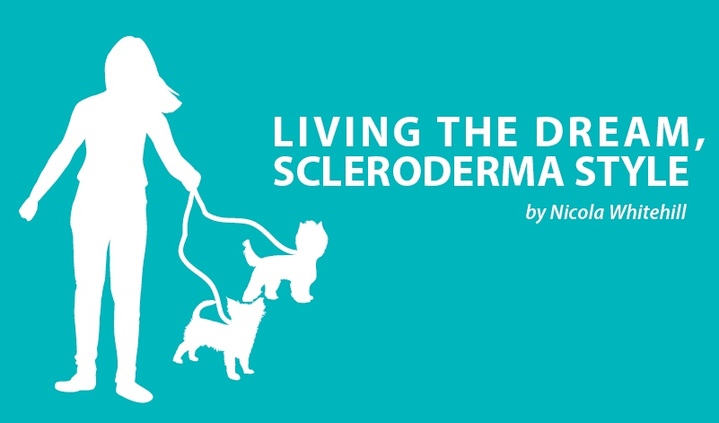 August is Gastroparesis Awareness Month. Gastroparesis occurs when the stomach can't pass food down to the small intestine, thereby affecting the digestion process.
Gastroparesis is an unwelcome and debilitating symptom to most scleroderma patients, myself included. Symptoms include bloating, acid reflux, constipation, diarrhea, vomiting, feeling full after a few mouthfuls of food, and nausea.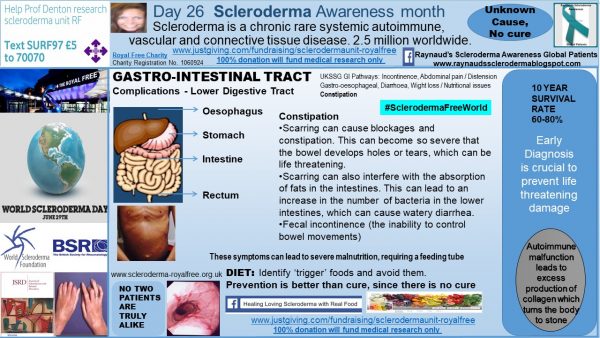 Throughout the seven years following my initial diffuse scleroderma diagnosis (1997 to 2004), I consumed a combination of immunosuppressants, chemotherapy, and steroids. This cocktail of powerful drugs, along with the scleroderma disease process, has left my gastrointestinal system extremely "fragile."
During those initial years, I was working as a barrister while taking 2 grams of CellCept a day. I would start my day with intense abdominal pain, which would last for hours, combined with frequent bathroom trips.
In an attempt to try to remove this time-consuming and debilitating start to my day, I would avoid eating much the previous night. Obviously, this was not a satisfactory long-term solution. Sadly, it resulted in me having to cease my 60 hours a week role to focus on repairing the damage to my scleroderma-attacked body.
In December 2012, I had an epiphany moment. I was feeling so ill, lethargic, and fed up with having to spend another day in my bed that I bought a juicer, the NutriBullet, and I started the Jason Vale seven-day juicing program. By Day 2, I noticed a difference. I was starting to regain some vitality, even if it did not last for very long at that time.
Nearly six years later, I still include daily juices in my diet. Juices are most definitely the way forward for me to feel better. I have scleroderma-induced gum recession, making chewing very difficult. I also have constant dry mouth, so soft foods only!
The two main juices I have daily are a vitamin C smoothie and a green juice. This way, I am making sure that my body is given a "full-on" nutritional hit while bypassing my dental obstacles.
By changing their diet and avoiding certain "trigger foods," other fellow patients have also seen fantastic results with an improvement in their symptoms and their overall feeling of well-being.
My lovely American friend, Kelli Schragg, has set up the "Healing Loving Scleroderma with Real Food" Facebook page, which I help with. Kelli shares her juicing tips and documents her progress.
Other patients who have changed their diet and "upped their game" in symptoms management include U.S. patients Dr. Susan Nyanzi and Roy Louden. U.K. patient Vanessa Cummings also includes juices in her diet.
A few months ago, Australian patient Margie Kugler became one of the first scleroderma patients to have a gastric stimulator fitted. Margie is making tremendous progress and is most certainly an inspiration to our global community. Thank you, Margie, for being a scleroderma trailblazer — we are most grateful!
Nearly all of the patients included within my Scleroderma Awareness Month 2017 and 2018 campaigns reported gastrointestinal symptoms as one of their many current health challenges and an unmet clinical need. Check out my patient profile index.
Other unmet clinical needs include:
Although these unmet needs are not immediately life-threatening, they cause havoc with the day-to-day quality of each patient's life.
Investment in medical research will most certainly improve the "soul-destroying" reality these unmet clinical needs birth.
I very much recommend for any patient to take part in a clinical trial run by a center of excellence.
I am honored to be a patient research ambassador with the National Institute for Health Research. Check out this video interview featuring me.
My patient profile campaigns showed that three hallmarks preside for optimum patient care:
Living the dream, scleroderma style.
Follow:
Facebook Page: Raynauds Scleroderma Awareness Global Patients
Twitter: @SclerodermaRF  @RaynaudsRf
Google Plus:  RaynaudsSclerodermaAwarenessGlobalPatients
#SclerodermaFreeWorld           #RaynaudsFreeWorld
Please DONATE to help fund medical research at The Scleroderma Unit, The Royal Free Hospital, London.
The hospital will use 100 percent of raised funds for medical research purposes only. Thank you.
#IAMHOPE #IAMSCIENCE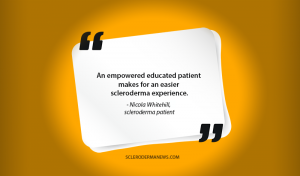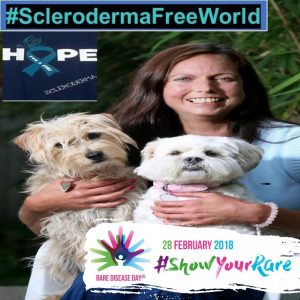 ***
Note: Scleroderma News is strictly a news and information website about the disease. It does not provide medical advice, diagnosis, or treatment. This content is not intended to be a substitute for professional medical advice, diagnosis, or treatment. Always seek the advice of your physician or other qualified health provider with any questions you may have regarding a medical condition. Never disregard professional medical advice or delay in seeking it because of something you have read on this website. The opinions expressed in this column are not those of Scleroderma News or its parent company, BioNews Services, and are intended to spark discussion about issues pertaining to scleroderma.