Invisible Disabilities Week and Raynaud's Awareness Month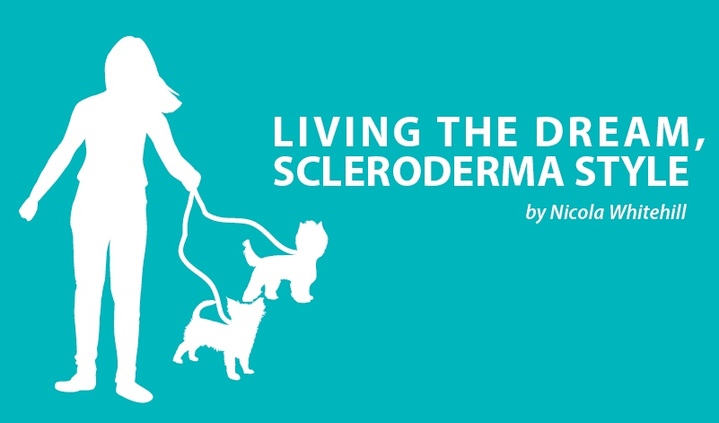 Invisible Disabilities Week, Oct. 15-21, started Sunday, combining with the ongoing October Raynaud's Awareness Month campaign. It made this a very busy week for our global patient community with awareness-raising opportunities.
I have detailed my Raynaud's reality, highlighting the immense impact that this diagnosis has had on my life, combining with the full-time job of respecting my scleroderma symptoms.
My tin-man body, along with fatigue and mobility challenges, remain constant sources of frustration and make managing my symptoms a full-time job.
"Ah, great another day to spend in bed" is not my favorite mantra.
To look at me, however, people kindly tell me, "But, you look so well."
My Raynaud's symptoms keep me under house arrest all year round. There is currently no cure for Raynaud's;  prescription medicines have blood-pressure altering, unpleasant side effects. I no longer experience as many digital ulcers and the intense, excruciating pain that comes with them, since taking bosentan, 125 mg, twice a day.
But if I put too much pressure or wear-and-tear on the soft tissue of my digits, I will cause an ulcer or calcinosis. I have a pesky one that appeared following my Patient Profile Campaign for Scleroderma Awareness Month 2017, and it still remains, dosed with two lots of flucloxacillin, 500 mg, four times a day.
This reality is turning into my digital ulcer nightmare, as antibiotics upset my gut flora.
My diet is critical to maintaining my energy levels and optimum symptom management.
The reduced blood flow in my hands during a Raynaud's attack makes for the perfect conditions for an ulcer or calcinosis to form. This is why it is so important for me to prevent any Raynaud's attack.
Ulcers and calcinosis can take months or years to heal and are extremely debilitating, painful and high-maintenance in the meantime. Every task, including bathing, requires gloves to be worn. I am fortunate that I have never experienced gangrene, which potentially follows, should the infection not have had an early enough medical intervention.
Raynaud's can, therefore, be VERY serious if not managed properly.
The discoloration of the digits or any of the other body parts affected (this varies in individuals) is a non-invasive, visible indication of the Raynaud's phenomenon.
To identify the level of blood vessel involvement and to distinguish between primary Raynaud's (like in Libby and Jane), and secondary Raynaud's, two diagnostic tests are carried out.
These tests are crucial in determining whether there is the presence of an underlying condition, such as an autoimmune disease.
Thermograph imaging
This process requires the body part, hand or foot, to be immersed in water at a set temperature for a certain length of time. The heat generated from the body part is then measured over time using thermography equipment. This indicates the level of blood flow and any possible impairment.
The thermograph imagery machinery costs in excess of £5,000 (about $6,627).
Nailfold capillaroscopy
This diagnostic test is used to identify possible blood vessel damage, which can indicate a possible underlying autoimmune condition.
In a normal and primary Raynaud's patient the blood vessels will appear symmetrical and smooth-like, as seen in the image below.
In a patient with scleroderma or other autoimmune disease, the vessels will have become distorted in their structure and appearance, thus impacting on blood flow impairment. This can be seen in the image below.
The nailfold capillaroscopy equipment costs about £1,500 ($1,988).
Huge thanks go to Kevin Howell, PhD, clinical scientist and honorary research associate at UCL Institute of Immunity and Transplantation, Royal Free Campus, for making these images available.
Without doubt, the global Raynaud's community is eternally grateful to him for his dedication and commitment to the Raynaud's enigma through his NHS career. He is celebrating his 25th year.
Many congratulations and thank you, Dr. Howell, the Raynaud's trailblazer.
These are U.K. treatment guidelines for Raynaud's phenomenon.
Raynaud's Unit, Royal Free Hospital, U.K.: Please DONATE  where 100% of your donation will be used for medical research only. #RaynaudsFreeWorld  #RaynaudsAwarenessMonth #IDW17
Follow the Raynauds Unit Royal Free Facebook page for regular updates.
Twitter: @RaynaudsRf
Living the dream, hoping for a cure.
***
Note: Scleroderma News is strictly a news and information website about the disease. It does not provide medical advice, diagnosis, or treatment. This content is not intended to be a substitute for professional medical advice, diagnosis, or treatment. Always seek the advice of your physician or other qualified health provider with any questions you may have regarding a medical condition. Never disregard professional medical advice or delay in seeking it because of something you have read on this website. The opinions expressed in this column are not those of Scleroderma News or its parent company, BioNews Services, and are intended to spark discussion about issues pertaining to scleroderma.