'Your Skin Cancer Has Cleared'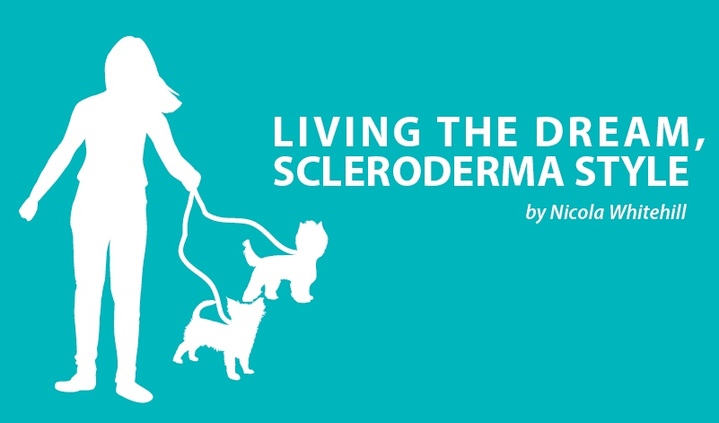 "Your skin cancer has cleared."
2018 started with a scleroderma-related, potentially life-threatening additional health challenge. A Bowen's skin patch presented itself on my left knee.
Last summer, I recognized the symptoms and knowing that the medication Efudix cream had cleared the Bowen's patch previously, I went to see my general practitioner, Dr. Tim Irvine, for a prescription for the cream in August.
Efudix is a chemotherapy cream, so Dr. Irvine was unable to prescribe it to me and had to refer me to the local dermatology center. Previously, I attended dermatology appointments at the Southport and Ormskirk Hospital. However, I was now required to attend a local clinic with a different dermatology team. At the initial referral appointment in January, dermatologist Dr. Javier Bassas was most concerned with ruling out melanoma, advising that it could kill me. I refused to undergo a skin biopsy due to the time of year — winter is my nemesis season.
I agreed to a biopsy at the following appointment in the event that the skin patch had not cleared with Efudix. I was grateful for Dr. Bassas's expertise and confirmed that I had consented to not having a skin biopsy against his professional judgment. I detailed that January appointment in my column, "The Pandora's Box of Scleroderma."
I then commenced daily application of the Efudix cream until a week before my follow-up appointment last week. Before attending this appointment, I was becoming increasingly anxious as the date approached. The Efudix cream had caused my skin to inflame and break, bringing pain and discomfort.
However, these symptoms subsided after a few weeks. On the day of my follow-up appointment, the skin still remained discolored, but it was now smooth. I was, however, anxious, as I knew that I was seeing a different doctor. I was not sure if I was going to have to succumb to the surgical knife.
It had also been playing on my mind that my 20 years of experience with living with this diagnostic reality had, maybe, made me complacent with hearing, "This could kill you."
After all, at the time of my 1997 diagnosis, I was given a 15-month prognosis. And in December 2016, I was in a state of elation, having been told by Prof. Chris Denton that my "skin is cured from scleroderma."
The feelings I had before the appointment were more than abated by the end of the consultation, thankfully. Dr. Anthony Downs examined the discolored skin area on my knee and told me, "Your skin cancer has cleared." I was stunned and overjoyed, and what's more — no biopsy! I then showed Dr. Downs other skin "spots" on my forehead for him to confirm as sun spots and actinic keratosis.
Dr. Downs reminded me that the medications used to treat my scleroderma increase my risk of developing skin cancer and developing sun damage.
I very much enjoyed the dermatology scleroderma-related discussion with Dr. Downs. He totally blew me away with his medical knowledge. I hope that I provoked a similar reaction with Dr. Downs when I told him that I was now 14 years immunosuppressant free, other than bosentan for my Raynaud's. He did look impressed and astounded!
As a long-term survivor of the rare autoimmune disease scleroderma and Raynaud's, it is a most welcome, albeit fairly uncommon, occurrence to receive any positive medical progress review. However, I remain in a state of elation that my body is now free from the "additional extra" of Bowen's disease and that my "skin cancer has now cleared."
I know that I am a "lucky" scleroderma patient. Lucky that I have minimal internal organ damage. Lucky that I continue to survive.
Albeit, my full-time job is looking after and respecting my symptoms. As well as reminding myself that "my job today is to simply get better."
Medical research provides immense hope for a #SclerodermaFreeWorld. In the meantime, I am delighted to be a patient research ambassador.
March is Autoimmune Disease Awareness Month.
I have been reposting the global patient profiles with a focus on medical research's unmet needs.
Click here to read about my personal unmet needs.
It has now been a year since the passing of Chris Milan. Please hold his family in your prayers.
In memory of his dad, and to raise vital funds for the scleroderma community, Ben Milan is holding a charity boxing night on March 15, 2018 — THIS Thursday.
All money will be donated to the Royal Free Hospital Scleroderma Unit and Children With Cancer. Click here to take part in the online auction. Click here to contact Ben Milan.
Wishing Ben the best of luck for a fantastic event, which Prof. Chris Denton will be attending.
Scleroderma Family Day is May 19, 2018 at the Royal Free Hospital.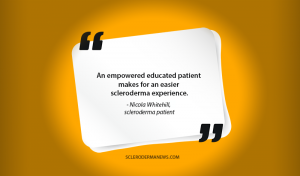 Living the dream, scleroderma style.
Please DONATE to the Scleroderma Unit.
ALL of your money will be used for medical research purposes only. Thank You.
#SclerodermaFreeWorld #RaynaudsFreeWorld
***
Note: Scleroderma News is strictly a news and information website about the disease. It does not provide medical advice, diagnosis, or treatment. This content is not intended to be a substitute for professional medical advice, diagnosis, or treatment. Always seek the advice of your physician or other qualified health provider with any questions you may have regarding a medical condition. Never disregard professional medical advice or delay in seeking it because of something you have read on this website. The opinions expressed in this column are not those of Scleroderma News or its parent company, BioNews Services, and are intended to spark discussion about issues pertaining to scleroderma.