Traveling with an Invisible Disability: My 2015 BSR Presentation Experience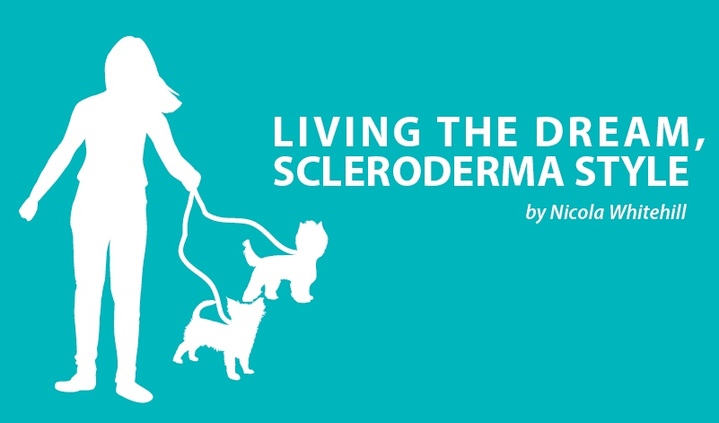 In a few weeks, the British Society for Rheumatology (BSR) will hold its annual conference. This year, Liverpool is the host city, which is not too far from me in Southport. Sadly, the practicalities of me actually being able to attend, even though the venue is not too far away, are endless.
As with everything, one only gets to know personal limitations by putting oneself out of the comfort zone. In my 21st year of living with the diagnoses of the autoimmune, rare diseases scleroderma and Raynaud's, I have learned the hard way that by pushing myself physically, my body will protest, and with a vengeance.
In April 2015, I was honored to be a presenter at the BSR's annual conference in Manchester. My presentation included my symptoms, the chemotherapies and immunosuppressants that have stabilized my disease activity, and my survival and coping strategies for living with this life-changing diagnosis in every way imaginable and unimaginable. However, for the purposes of this article, I will highlight the actual physical difficulties that arose just with the logistics of living a day like a "normal" person.
Manchester is only 40 miles from Southport, with a direct train line. I am not easily transportable in the best of times unless sitting in the front passenger seat of a constant-temperature heated car. This is in an attempt to minimize my Raynaud's flaring.
The smallest decrease of change in temperature, regardless of how warm it is, is sufficient to trigger my hands to spasm and change color.
This situation has to be avoided, especially if ulcers or calcinosis are present, which has been my "normal" for over two decades now.
However, I was so delighted at having been invited to present at the BSR Conference 2015 that I booked my train ticket to Manchester, departing Southport at 6:20 a.m. The alarm clock was set for 3:30 a.m.
I parked up in the station car park and thought what a miracle it was that I had made it out at this time, and on time! I then went and schmoozed the train guard so I could stay near his heater until my train arrived. A quick flash of my blue-black-tinged hands, briefly removed from my Ugg gloves, did the trick — as opposed to my female persuasive charms, which scleroderma depleted years ago, judging by my latest admirers! Haha!
The hour-long train ride was an entirely new experience, one that I have not repeated since and do not intend on doing again with my "tin-man" body.
I was very relieved to arrive in Manchester. Upon alighting the train, there was a huge set of steps to get up to exit the station. My heart sank. I could not stop, as the flow of the crowd was too strong. I gripped the handrail at the side of the steps as best as I could. I have very little, if any, grip due to my very tender, sore, scleroderma-damaged fingers. I then had to negotiate trying to get my legs up the steps, bending my swollen, stiff knees.
I had just about got into a rhythm, albeit elegance and style were not included, when a perfectly abled middle-aged man stood in front of me, coming down the steps. He was shouting at me to move out of the way. I tried to explain to him that I was unable to let go of the handrail, but he pushed me out of the way, causing me to stumble into some people!
I eventually made it up the steps and reflected on my "invisible disability" experience. Had I been equipped with a sign around my neck, Paddington-style, or maybe a teal ribbon tattoo, would this have prevented my recent public humiliation by trying to be "normal" again? I doubt it. Ignorance is ignorance, and as patients living with a degenerative rare disease, education and awareness of such come along as an optional duty.
This scleroderma Olympian is in training for the Scleroderma Unit Family Day on May 19 at the Royal Free Hospital.
Living the dream, scleroderma style.
Follow: Facebook Page: Raynauds Scleroderma Awareness Global Patients
Twitter: @SclerodermaRF @RaynaudsRf
Google Plus: RaynaudsSclerodermaAwarenessGlobalPatients
#SclerodermaFreeWorld           #RaynaudsFreeWorld
Please DONATE to help fund medical research at The Scleroderma Unit, The Royal Free Hospital, London.
–100% of your monies will be used for medical research purposes only. Thank You.
#HOPE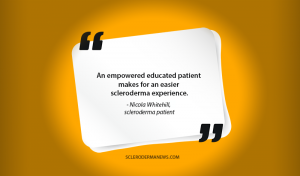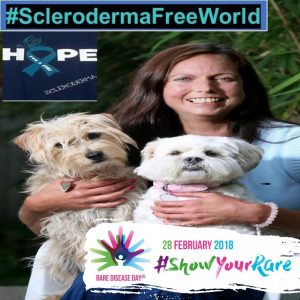 ***
Note: Scleroderma News is strictly a news and information website about the disease. It does not provide medical advice, diagnosis, or treatment. This content is not intended to be a substitute for professional medical advice, diagnosis, or treatment. Always seek the advice of your physician or other qualified health provider with any questions you may have regarding a medical condition. Never disregard professional medical advice or delay in seeking it because of something you have read on this website. The opinions expressed in this column are not those of Scleroderma News or its parent company, BioNews Services, and are intended to spark discussion about issues pertaining to scleroderma.