Christmas Wishes and a New Year to Celebrate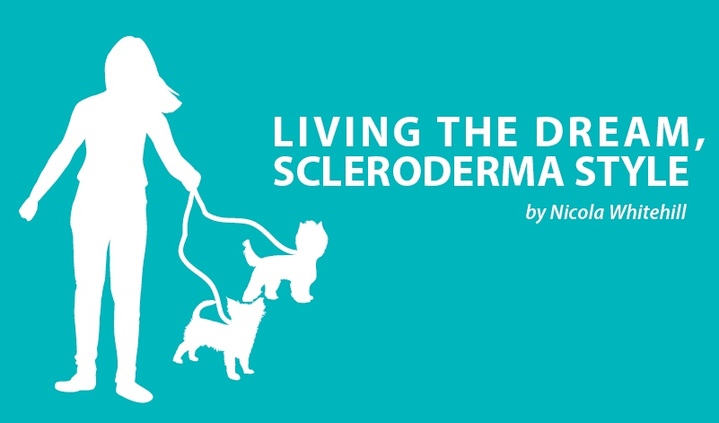 The festive holiday season is here. To mark the occasion, check out my little "dream team" Christmas jumper video.
As patients living with a chronic, debilitating, and rare autoimmune disease, we know all too well that there is no holiday from our day-to-day reality.
Managing the numerous and complex symptoms makes for a full-time job.
Recently, I celebrated my 20th year since first having dragged my "tin man" body to the Scleroderma Unit at The Royal Free Hospital in London.
I am hugely grateful to Dame Prof. Carol Black, Prof. Chris Denton, and the National Health Service (NHS) for keeping me alive.
At the time of my initial diagnosis in September 1997, doctors told me that I had a 15-month prognosis due to the aggressive attack the diffuse form of the disease was launching on my body.
My wish at that time was to achieve my personal career goal of becoming a barrister — a "learned friend."
This photo was taken when I was called to the bar at Gray's Inn in July 2001. This was in addition to my postgraduate diploma in law studies and a year at bar school. I then had to shadow several barristers to complete my "hands-on" training. I am eternally grateful to the late Ross Fitzpatrick (Mungo) and David Herbert QC for their learned counsel and friendship during this time.
On March 1, 2004, after seven years of treatments (chemotherapy and immunosuppressants), while studying and training, my wish was granted. Prof. Denton was extremely supportive throughout this time, helping me achieve my wish.
I am now 14 years chemotherapy and immunosuppressant free. I take bosentan for my Raynaud's and control my GI symptoms with a strict diet.
Here in the Northern Hemisphere, the winter season has arrived. Winter really is my nemesis time of year. "House arrest" is my only option in an attempt to minimize my Raynaud's flares. Prevention is better than treatment. In fact, prevention is crucial since there is no cure.
However, I know that for some of my fellow patients who live in the Southern Hemisphere, such as Margie, this is a favorite time of year. (Sadly, RIP my lovely friend Silvana.)
By the time winter sets in, I am constantly cold. This is accompanied by continual, relentless exhaustion, lethargy, and pain, which causes immense frustration.
However, people often kindly tell me, "You look so well."
I wish that my body would feel warm all year round. Unfortunately, I must wear Ugg boots and gloves on the hottest of days in an attempt to prevent a Raynaud's flare.
This year has been particularly challenging for me due to extra complications such as skin cancer, dental issues, calcinosis, and an index finger ulcer. I am still fragile from having started the year with shingles.
These unmet clinical needs were replicated during my global patient profile campaigns for Scleroderma Awareness Month in 2017 and 2018.
Telangiectasia, sclerodactyly hands, and gastrointestinal issues were common symptoms among patients.
For optimal patient care, the following are essential:
All I want for Christmas is my Christmas (and daily) wish to be granted: a scleroderma-free-world and a Raynaud's-free world.
Medical research provides immense hope for this wish to be granted.
Now that I am blessed to be a long-term scleroderma survivor and scleroderma Olympian, I spend most of my spare time when not tending to my symptoms committed to the "SclerodermaFreeWorld" and "RaynaudsFreeWorld" wish.
This year, I am honored to have become a patient research ambassador with the National Institute for Health Research. (Here's a video, and here's a "Hall of Fame" article.)
Recently, I was appointed as a Patient Public Voice in the NHS England Clinical Reference Group for specialized dermatology.
This is in addition to my NHS England CRG specialized rheumatology role and my patient expert roles with the European Medicines Agency.
As this is my last column for this year, I very much want to wish you a happy Christmas and a most prosperous 2019.
Thank you for sharing the same daily wish in 2019:
a scleroderma-free world
a Raynaud's-free world 
2019 is already looking to be a very busy year with exciting times ahead that could grant this wish.
Living the dream, scleroderma style.
Follow:
Facebook: Raynauds Scleroderma Awareness — Global Patients
Twitter: @SclerodermaRF and @RaynaudsRf
Google Plus: Raynauds scleroderma awareness global
Use the hashtags #SclerodermaFreeWorld and #RaynaudsFreeWorld.
Please donate to help fund medical research at the Scleroderma Unit of the Royal Free Hospital, London.
One-hundred percent of raised funds will be used for medical research purposes only. Thank you.
Please consider leaving a gift in your will for medical research at the Scleroderma Unit. Thank you.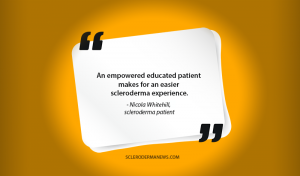 ***
Note: Scleroderma News is strictly a news and information website about the disease. It does not provide medical advice, diagnosis, or treatment. This content is not intended to be a substitute for professional medical advice, diagnosis, or treatment. Always seek the advice of your physician or other qualified health provider with any questions you may have regarding a medical condition. Never disregard professional medical advice or delay in seeking it because of something you have read on this website. The opinions expressed in this column are not those of Scleroderma News or its parent company, BioNews Services, and are intended to spark discussion about issues pertaining to scleroderma.