Flashback: Scleroderma Awareness Month 2017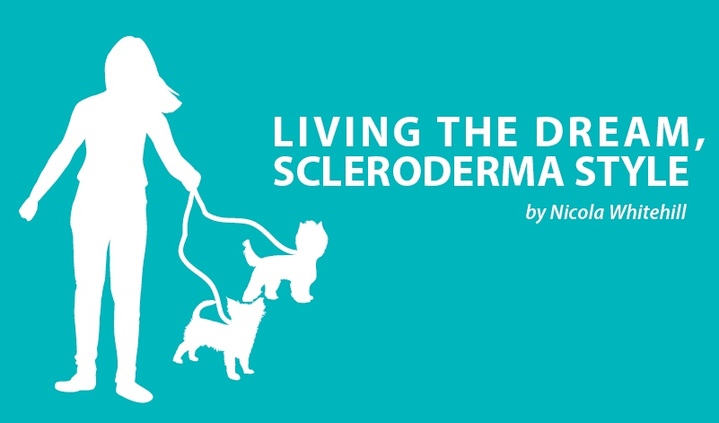 Last month was Scleroderma Awareness Month, with June 29 being World Scleroderma Day. And, WOW, what a busy month it was for raising awareness of our multi-complex, rare disease! In this column, I discuss the importance of raising awareness, along with the results of my patient profile global campaign and focus on medical research.
Why raise awareness?
This is our opportunity to spotlight the entire scleroderma and Raynaud's experience in all of its forms, including symptoms, their management, and the day-to-day reality resulting from the disease's process.
Having a rare disease forces you to become your own advocate. It also forces you to become your own medical expert in your diagnosis, optimum treatment, and best management. Expert specialist centers are crucial to implementing this.
For 2017, I focused my awareness month campaign on patient profiles and research across the globe. This highlighted the three common hallmarks for best practice, regardless of location. namely:
Expert specialist centers
Access to innovative medicines
At the end of Week 3, I discussed the current medical research landscape related to progress in discovering the cause and cure of scleroderma and Raynaud's.
The global patient profiles highlighted several current unmet clinical needs, showing that although no two patients display the exact same set of symptoms, some similarities exist. I will discuss these unmet clinical needs in more detail in future columns.
My fingers and eyes are still protesting the increase in computer keyboard use over the course of the month, with several new lumps of calcium appearing at the tips due to excessive use. Living the dream, indeed!
Global interactions
Again, our friends over in Canada showed the rest of the world how to raise awareness of scleroderma. Huge thanks to them for all they did and continue to do.
On June 29, World Scleroderma Day, I was delighted to receive, via the post, my "Me & Sclero" goodie bag, a total surprise and perfect timing! It included a lovely bag, an information leaflet, a T-shirt, and a business card.
Huge thanks to Sarah for her generosity.
I am very excited about Sarah's scleroderma project, and I wish her all the success in the world with raising awareness of our disease.
The U.S.-based Scleroderma Research Foundation made a video outlining the progress that has been made the past 30 years. They also raised an amazing $1.4 million at the Cool Comedy Hot Cuisine event in Los Angeles on June 16.
For the rest of the year?

Sadly, as we know all too well, our true reality is that we live with this diagnosis 365 days a year. My 2016 Scleroderma Awareness Month campaign focused in more detail on the symptoms and body parts affected, with a flashback to 2016 global awareness efforts.
Our reality as patients
Each day brings a variety of different symptoms that must be respected and prioritized, in the hope of having the best day possible, given the diagnostic reality. On some days, this means spending the day in bed.
All of the patient profiles showed fatigue as a constant companion.
Medical research progress
5th World Congress in Systemic Sclerosis, Bordeaux, France
The 5th Systemic Sclerosis World Congress will take place Feb. 15-17, 2018 in Bordeaux, France.
This biannual event is the hub of the most up-to-date advancements in research and current understanding of the entire scleroderma disease process.
Summary
Overall, medical understanding of the nature of the disease and its implications has improved immensely the past decade. However, due to the multi-complex body systems involved in scleroderma's autoimmune disease process, research still lags way behind in providing an understanding of the cause and effective treatments, leading to a cure.
Thank you, to everyone who took part in the patient profile campaign, and to everyone for your support and encouragement throughout the campaign in sharing the same dream: A Scleroderma-Free World.
DAY 1–DAY 24, Scleroderma Awareness Campaign Patient Profiles 2017
DAY 25–DAY 30, Scleroderma Awareness Campaign Patient Profiles 2017
Please donate  to help fund medical research at The Scleroderma Unit, The Royal Free Hospital, London, where 100% of all of your monies will be used for medical research purposes only. Thank you.
Living the dream, hoping for a cure
#SclerodermaFreeWorld #RaynaudsFreeWorld
#RareDisease #Hope #Belief
Follow Raynauds Scleroderma Awareness Global Patients Facebook Page for latest updates
***
Note: Scleroderma News is strictly a news and information website about the disease. It does not provide medical advice, diagnosis, or treatment. This content is not intended to be a substitute for professional medical advice, diagnosis, or treatment. Always seek the advice of your physician or other qualified health provider with any questions you may have regarding a medical condition. Never disregard professional medical advice or delay in seeking it because of something you have read on this website. The opinions expressed in this column are not those of Scleroderma News or its parent company, BioNews Services, and are intended to spark discussion about issues pertaining to scleroderma.