Scleroderma Awareness Month 2018: Unmet Clinical Needs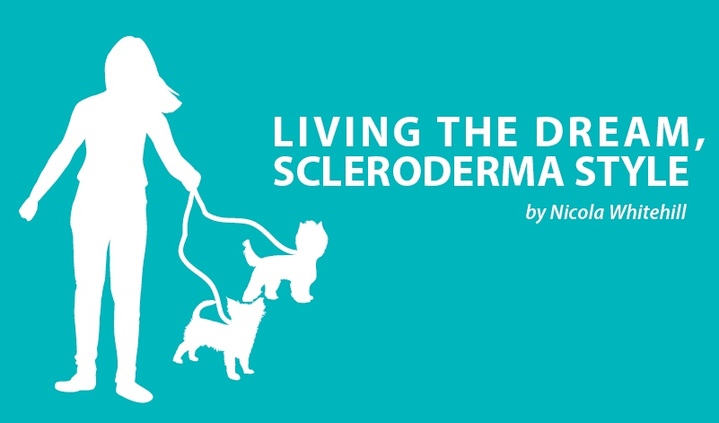 We are nearly a week into June, our annual awareness month, which presents a spotlight opportunity for raising awareness about our rare disease and our day-to-day reality of living with scleroderma.
The theme for this year's Rare Disease Day — like last year's — is research, so I thought that considering my personal experience and my view about the importance of research, I would base my Scleroderma Awareness Month 2018 campaign on research.
Due to the overwhelming success and interest shown toward my global Patient Profiles Campaign started for Scleroderma Awareness Month 2017, I have updated each patient's profile with their personal experience of medical research, and what they think about it.
I owe huge gratitude to and hold immense admiration for all of the patients who kindly took part in the campaign and who have provided an update as to their general health and symptoms. You can view the video here.
As patients, we know all too well how managing the symptoms of this disease is a full-time job.
Despite adhering to a strict diet and daily routine to help minimize the severity of my symptoms, the Pandora's Box connected to my scleroderma or Raynaud's symptoms often present me with unwelcome surprises.
While updating each patient's annual review, it was, sadly, no surprise for me to see that no patient has reported a marked improvement with their symptoms.
All patients continue to report their same set of symptoms, if not an increase in severity, along with several other additional symptoms over the course of the last 12 months.
However, I was surprised and sad about the number of patients who have not taken part in any clinical trials but are willing to do so.
Here I am earlier this year, in my Patient Research Ambassador role with the National Institute for Health Research, talking about why I think medical research is so important.
Although scleroderma patients are few in number globally, hence the title rare disease, and no two patients display the exact same set of symptoms, there are visible similarities.
The following unmet clinical needs were prevalent for the majority of the patients who took part in the global patients' profile campaign:
This list of the current unmet clinical needs experienced with a scleroderma and Raynaud's diagnosis is by no means exhaustive.
This plethora of symptoms illuminates the systemic effect the disease process has on the body. Thus, a multidisciplinary medical expert team is essential for best patient care and management.
My Scleroderma Awareness Month 2016 campaign focused on the systemic effect and treatment options available.
Another sad reality that most of the profile patients have reported is the cocktail of drugs they take on a daily basis to suppress their symptoms.
It is, however, very encouraging and exciting to see some improvements in the disease management, care, and understanding process.
Swiss patient Alice has just celebrated her six-year double-lung transplant, and U.K. patient Sarah reports an improvement in her symptoms following her stem-cell transplant. Thanks to Sarah for sharing her image for the sclerodactyly image. And of course, the miraculous Roy and Joseph from the U.S.!
All of the patients show immense inner strength and bravery, and they are all scleroderma miracles, in my view!
Only a few weeks remain until World Scleroderma Day on June 29.
Each participant of the global profiles campaign has also included in their 2018 update details of what they do in between medical appointments.
Several patients have kindly shared their creative show-stoppers on social media, which will be collated into a video for World Scleroderma Day.
If you would like to be involved, please get in contact!
Here's one of my creations:
World Scleroderma Day 2017, Flashback
World Scleroderma Day 2016, Origins of the date
World Scleroderma Day 2015,  June 29 — presentation at the European Parliament.
I had the pleasure of being a presenter and part of the European cohort who gave a presentation at the European Parliament in Brussels, in honor of World Scleroderma Day 2015. I am immensely grateful to James Carver, MEP, for organizing this event in memory of his late wife, Carmen, who sadly passed from scleroderma. View the presentation.
The experience remains one of my patient highlights of the last 21 years. The traveling was a harsh reminder as to why I had not been abroad for the previous decade.
In my view, medical research provides immense HOPE for much-needed improvement in our day-to-day reality, as well as improvement in the prognosis for newly diagnosed patients. And ultimately, the dream of a Scleroderma Free World.
Living the dream, scleroderma style.
Follow:
Facebook Page: Raynaud's Scleroderma Awareness Global Patients
Twitter: @SclerodermaRF  @RaynaudsRf
Google Plus: RaynaudsSclerodermaAwarenessGlobalPatients
#SclerodermaFreeWorld  #RaynaudsFreeWorld
Living the dream, scleroderma style.
Please DONATE to help fund medical research at The Scleroderma Unit, The Royal Free Hospital, London. 100 percent of the raised funds will go toward medical research only. No wages or administrative costs. Thank you.
#HOPE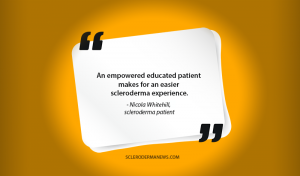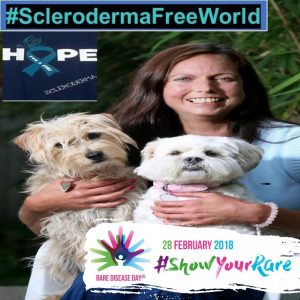 ***
Scleroderma News is strictly a news and information website about the disease. It does not provide medical advice, diagnosis, or treatment. This content is not intended to be a substitute for professional medical advice, diagnosis, or treatment. Always seek the advice of your physician or other qualified health provider with any questions you may have regarding a medical condition. Never disregard professional medical advice or delay in seeking it because of something you have read on this website.