Scleroderma Awareness Raising 2018: Medical Research Investment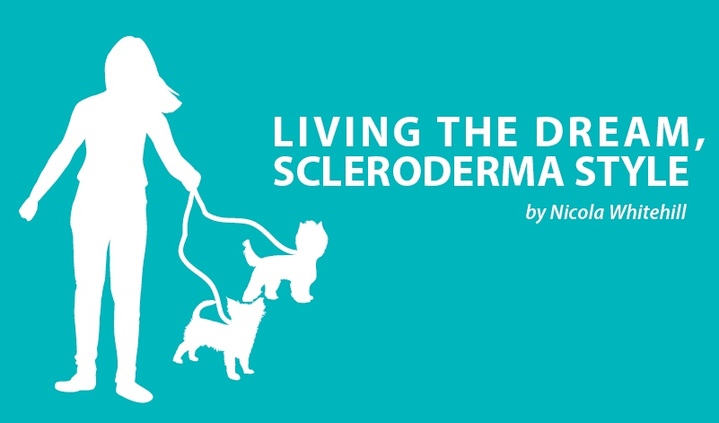 We are now over halfway into our awareness month, culminating with World Scleroderma Day on June 29.
As a long-term survivor of our rare disease, it has been very exciting for me to see the vibrant 2018 Scleroderma Awareness Month activity, which is taking place over many social media platforms.
Scleroderma Canada and the city of Toronto have arranged for several well-known buildings and tourist attractions to be lit up in teal during the month. The highlight will be the Niagra Falls on World Scleroderma Day, which will be streamed live via their Facebook page.
So far, as is the same every year, in my view, our Canadian scleroderma friends continue to show the rest of the world how to raise awareness, and best of all, get laws changed to help improve patients' lives.
This is why I am obsessed, (if you had not already noticed, and, I am the first to admit this obsession) with raising awareness about financial investment in medical research, not only for discovering the cure and cause but also for improving the day-to-day reality of the rare disease patient's life.
This includes access to innovative medicines which need to be fast-tracked through the regulatory process to ensure maximum benefit to patients.
Time is a luxury for rare disease patients in general, and especially so for the scleroderma patient. Early diagnosis is crucial to prevent any potential life-threatening damage.
I will soon be entering the 21st year since I first heard those life-changing words: "You have scleroderma."
I am eternally grateful for the early-ish diagnosis I received, followed by the outstanding world-class care I continue to receive at the globally-renowned scleroderma unit expert center.
In December 2018, I will be celebrating my 20th anniversary of being a patient at the unit. I know that I am an extremely lucky scleroderma patient because I'm still alive despite scleroderma turning me into a real-life "tin man." This forced me to respect the multi-systemic symptoms and damage caused by the disease, when it was at its most active, from 1997 to 2004, and I had to give up full-time work.
I remain eternally grateful to Dame Professor Carol Black and Professor Chris Denton, whose medical expertise and care most definitely contributed greatly to my achieving my childhood goal of becoming a barrister in 2004.
At the same time, I discontinued my daily dose of 2,000 mg mycophenolate mofetil of the previous five years. Within a few months, I experienced a flare in my symptoms and had to accept that the physical demands of the risk were too much for my scleroderma-damaged body.
I have detailed more about my patient experience and journey on Day 12 of my global patient profiles campaign for Scleroderma Awareness Month 2018.
My personal experience is the precursor and the reason I started my global patient profiles campaign last year.
I am extremely grateful to all of the patients who have kindly shared their experiences for awareness purposes. I owe a huge thanks to the families of the patients who, sadly, have died from the disease.
Although we are relatively few — 2.5 million worldwide — the small sample of patients included within my global patients profile campaign shows that there are many unmet clinical needs, which patients have in common.
Gum recession and dental problems:
Invisible disability like pain and fatigue:
Soft tissue and digital ulcers:
Although these unmet needs are not immediately life-threatening, they cause havoc in the day-to-day quality of a patient's life.
Investment in medical research will most certainly improve the current "soul-destroying" reality these unmet clinical needs bring.
Last week I celebrated another birthday. Here I am, being spoiled by my lovely childhood friend, Libby. I am eternally grateful for her continued friendship, love, and support.
The following day, aged 45, I became a Page 3 girl (not a childhood dream, as such). My local paper featured my story along with my patient research ambassador role.
Living the dream, scleroderma style.
Follow:
Facebook Page: Raynaud's Scleroderma Awareness Global Patients
Twitter: @SclerodermaRF  @RaynaudsRf
Google Plus:  RaynaudsSclerodermaAwarenessGlobalPatients
#SclerodermaFreeWorld           #RaynaudsFreeWorld
Please DONATE to help fund medical research at The Scleroderma Unit, The Royal Free Hospital, London.
100 percent of your donations will be used for medical research purposes only. No wages. Thank you.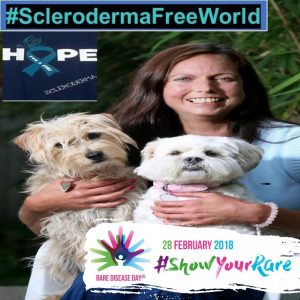 ***
Scleroderma News is strictly a news and information website about the disease. It does not provide medical advice, diagnosis, or treatment. This content is not intended to be a substitute for professional medical advice, diagnosis, or treatment. Always seek the advice of your physician or other qualified health provider with any questions you may have regarding a medical condition. Never disregard professional medical advice or delay in seeking it because of something you have read on this website.