My life-changing mobility scooter ride!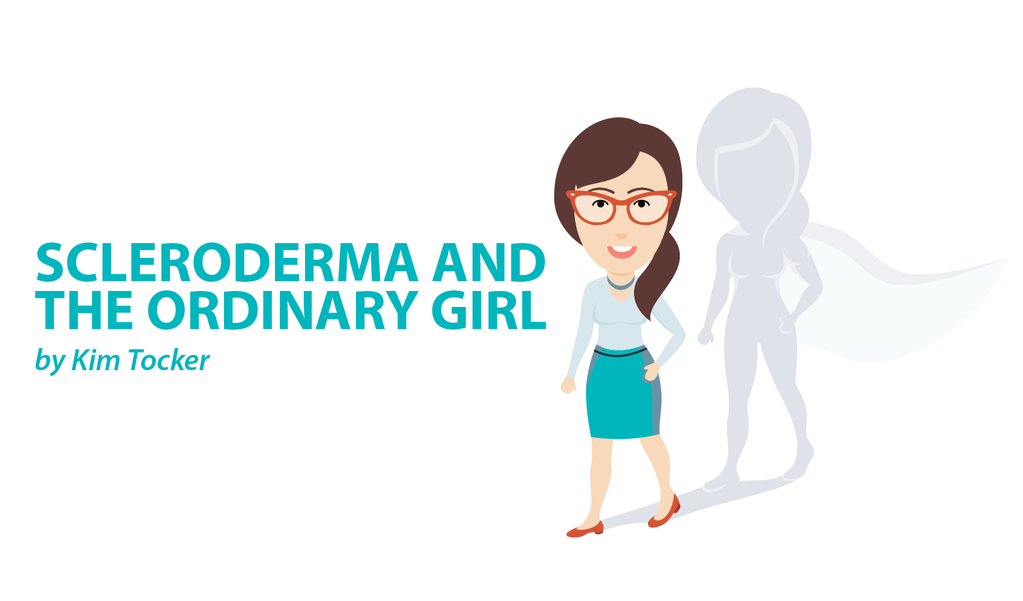 I remember clearly the day I was given my diagnosis of systemic scleroderma. However, I think it was quite some time after this that I got my diagnosis of systemic scleroderma. "Being given" and " getting" are two different things. The first happened in the matter of a minute, but the second was a different process and included my first ride on a mobility scooter.
I was given my diagnosis was after the rheumatologist finally got all my blood test results, and following a very thorough examination and several long consultations involving many questions. Ultimately, news of the diagnosis possibly took less time than it takes to say "Kim, I am giving you a diagnosis of limited variant systemic scleroderma."
But a different process was involved for me to "get" my diagnosis — to really understand and accept it. Many experiences, feelings and emotions combined to contribute to the clear awareness that, yes, I actually have systemic scleroderma. I'm unwell. My life has changed. I must adapt.
I think a major part of this process happened about a year after being given my diagnosis. It came about because I had to hire my first ride on a mobility scooter due to fatigue and joint pain. There were some very interesting things that I experienced whilst riding the scooter for my first time. The different attitudes of the other footpath users ranged from "I'll certainly move out of your way to let you through" to "How dare you bring that thing on MY footpath! Go around me, annoying person!" (I also almost managed to score myself a ladies handbag when I lurched off from being stationary for a moment and didn't realize the bag had looped itself over the prong on the back of the scooter.)
Something happened to me when I had to sit on that scooter for the first time and then steel myself to actually start it. Strangers were looking, my family cautiously watching. Something changed inside me in those moments. Time seemed to slow and I felt like I could see myself in slow motion, clambering clumsily on and turning the key with slightly shaking hands. I experienced a full-on turmoil of emotions, including shame, embarrassment, anger — and the relief of not feeling the shattering joint pain.
In my head and heart I felt as if I could see the ordinary healthy person I used to be morph into an ordinary girl with an extraordinary, debilitating, life-changing disease. Or, at least that's how it felt for me. It probably didn't look that way to others as I joked with the owner about whether I also could rent a small dog for the front basket.
Driving away
Perhaps it's all part of the grieving process that someone with a chronic disease and the resulting lifestyle changes must go through. The realization that the able-bodied healthy person they were is truly gone.  Sometimes, as it did for me,  a specific experience or event might trigger that. Once "seen," it's impossible to "unsee." Of course, my body makes it very clear (just in case I get into further delusional thinking) that I'm certainly different now.
In the few seconds I made myself get on the scooter and drive away, that's when I "got" my diagnosis. It almost felt like I was driving away from me, the old me anyway. Distressingly, when I returned the scooter later that day the old me wasn't there waiting. I still haven't found her. I realize now she  took off some time ago, but I had been pretending she was still there. Damn! Hate it when that happens.
Realizing your own self-delusion is a shrinking experience. It is a process I think all chronically unwell people end up going through. It is important, it is painful, but in the end, it leads to self-acceptance and motivation to reassess one's life and adapt.
It can be done. It must be done.
I wish for you all plenty of bravery and courage as you go through both the process and the resulting call to adapt to your new life.
Note: Scleroderma News is strictly a news and information website about the disease. It does not provide medical advice, diagnosis, or treatment. This content is not intended to be a substitute for professional medical advice, diagnosis, or treatment. Always seek the advice of your physician or other qualified health provider with any questions you may have regarding a medical condition. Never disregard professional medical advice or delay in seeking it because of something you have read on this website. The opinions expressed in this column are not those of Scleroderma News, or its parent company, BioNews Services, and are intended to spark discussion about issues pertaining to scleroderma.