June is Scleroderma Awareness Month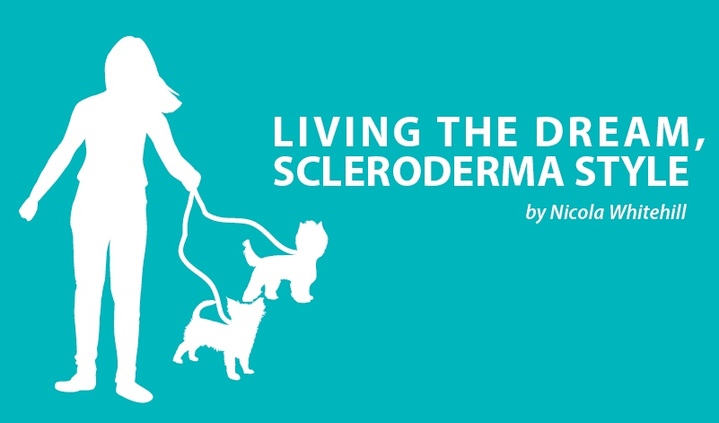 June is Scleroderma Awareness Month, with June 29 being World Scleroderma Day. Sadly, as patients we all know too well that every day is "scleroderma day." As such, I want to highlight the importance of maximizing Scleroderma Awareness Month, and provide some ideas for how you can get involved, even if it is only remotely.
Living with a rare disease (whose cause and cure currently remain a mystery to the scientific community) certainly makes you become an expert in your own medical condition, as well as your own patient advocate.
Scleroderma Awareness Month provides a perfect platform to raise awareness about scleroderma. It also gives us the opportunity to further educate about the importance of improving patient practice and care. You also can use other other related awareness months, such as March's Autoimmune Disease Awareness month, as an opportunity to raise awareness for scleroderma.
Last year I focused my Scleroderma Awareness 2016 campaign on all of the different aspects to the disease, and created images to help explain some of the symptoms. I focused on everything from the differing subsets and classification for diagnosis, to then detailing symptom involvement and treatment options/guidelines.
Further, to this year's Rare Disease Day theme being "Medical Research – with research possibilities are limitless,' I have made medical research the topic for my Scleroderma Awareness Month 2017 campaign. For Rare Disease Day 2017,  I wrote a column focused on research, while highlighting examples of unmet clinical needs to the scleroderma Raynaud's patient.
I believe medical research provides immense hope when living in the rare disease patient abyss. Because so much is unknown, management of symptoms is controlled by symptom suppression, as opposed to attacking the direct underlying cause. However, the past few years have shown some very exciting developments in the field of medical research, and treatments for the scleroderma Raynaud's patient.
This is evidenced by the launch of The Journal of Scleroderma and Related Disorders (JSRD) at the 4th Systemic Sclerosis Congress in 2016. The Journal has now published four volumes, with the fifth volume soon to be distributed. The contents of the Journal show all of the differing approaches being taken to understand the biological processes and systems involved in the scleroderma Raynaud's pathway.

Current medical understanding has improved to now be able to identify the differing immune cells and micro-immune cells involved within the inflammatory process, thought to lead to fibrosis. Fibrosis/thickening is one of the key identifying features of most scleroderma subtypes, and is included within the ACR/EULAR diagnostic guidelines, which are globally recognized for classification purposes.
Understanding has improved with the emerging strategies now being used as an approach to treat systemic sclerosis, targeting the immune response as well as vasculopathy (blood vessel damage). However, it is unlikely that the discovery of a cure will be of any direct assistance to me, because I am one of the "lucky" scleroderma patients whose disease is in remission. Albeit, the damage the disease has inflicted on my body makes for a full-time job with looking after my symptoms. Nevertheless, this does not dampen my desire to see a cure discovered in my lifetime. In fact, this is my ultimate dream, and my elixir to get better.
I have spent many years ruminating on why my body wanted to do this to itself. My symptoms forced me into a whole new lifestyle, where my body is now the pilot, and not my desire to fulfill my career ambitions. By changing my diet and attitude, along with the exceptional medical expertise of Professor Denton and my medical team, I am reversing my symptoms … slowly.
However, I still remain elated at having been told my skin is cured of scleroderma last November, almost 18 years to the day since having first dragged my tin man body to the Scleroderma Unit. And nearly 12 months post my initial diagnosis, I was given a 15-month prognosis.
To keep updated about my Scleroderma Awareness Month 2017 Campaign, please follow the posts here at Scleroderma News as well as my Facebook Page Raynauds Scleroderma Awareness Global Patients.
And please be sure to post in the comments below for any ideas you may have for raising awareness for scleroderma in honor of Scleroderma Awareness Month. If we stand united, globally we can help crack the scleroderma Raynaud's code.
FESCA World Scleroderma Day Campaign.
Living the dream, scleroderma style, hoping for a cure.
#SclerodermaFreeWorld #RaynaudsFreeWorld #RareDisease #SclerodermaAwareness
Please donate to Just Giving Page for medical research at the Scleroderma Unit, The Royal Free hospital, led by Professor Denton, where 100% of your monies will be used for medical research purposes only. Thank You.
***
Note: Scleroderma News is strictly a news and information website about the disease. It does not provide medical advice, diagnosis, or treatment. This content is not intended to be a substitute for professional medical advice, diagnosis, or treatment. Always seek the advice of your physician or other qualified health provider with any questions you may have regarding a medical condition. Never disregard professional medical advice or delay in seeking it because of something you have read on this website. The opinions expressed in this column are not those of Scleroderma News, or its parent company, BioNews Services, and are intended to spark discussion about issues pertaining to scleroderma.