Mother Shares Update About Wyatt the Warrior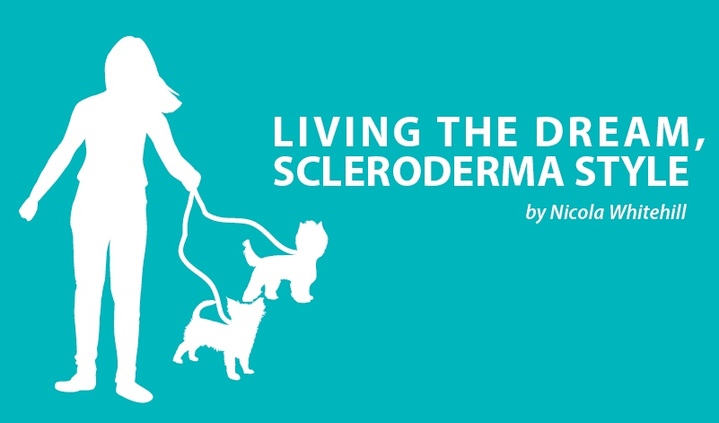 In March, I wrote about the amazingly brave young man, Wyatt the Warrior. Wyatt was diagnosed with localized scleroderma two years ago, when he was 8.
Wyatt, now 10, and his twin brother Weston, have had a busy six months attending medical appointments, as well as raising scleroderma awareness and helping other children who face health challenges.
Candace, Wyatt's mum, shares this update:
"This summer we were able to collect a truckload, and a carload of food and supplies, to help out the Ronald McDonald House. The Ronald McDonald House is used by several of our families during long stays at the hospital.
"Our local hospital opened a children's department and were in need of art supplies. So, we organized four wagons full of supplies, as well as we all carried in a box of donated supplies. Wyatt has benefited from this, from when he has long hospital stays.
"In October, we took Halloween gifts to all the children in the hospital. We wanted to make sure they still got to celebrate Halloween, too.
"Wyatt and I make Lilly pads for the hospitals. These are used on IV poles so that the kids can ride on them and not have to walk. This is great for when they don't have the strength to walk, but want to go on a walk. Parents and nurses can push them also. Right now, we are donating some to two hospitals.
"Our current project is making sure that these kiddos in the hospital have a Christmas, too. We are collecting toys that will be donated to the local hospitals to bring cheer to them during the holiday season!
"Wyatt and I love to give back and see smiles on the kids faces.
"Wyatt himself has had several health issues this last year. His migraines have been worse, so we are working with neurology now to fix that. He has also been diagnosed with a tic disorder, which we are hoping, will not develop into Tourette's syndrome.
"Wyatt had his tonsils removed, which caused immense hemorrhage and was a scary time. We were not sure what was going to happen to him. He was very sick. He had a few days in the hospital and then did homebound school for three weeks after that. It took him over two months to get back into double digits on his hemoglobin. We are finally, after last month's check, back to normal."
Wyatt and I attended the Scleroderma Conference in New Orleans LA this summer, where we met so many scleroderma families. In October, we traveled to New Jersey for the first ever 'Kids get Scleroderma Too' conference. Man, this was a mind opening experience for us, meeting so many families. Wyatt loves to meet other scleroderma patients. Or as he says it, "I get to meet people just like me!"
We very much enjoyed the kid classes where the children had an opportunity to express their feelings about scleroderma and share their stories on how each other cope with the disease. Wyatt has made some great friends, and I too, have made several friends who I can talk to about treatments, and what we do with our kids to keep their spirits up, or how to get them to take their medications! It was a great bonding time for us all, sharing the same vision – a cure for scleroderma.'
Huge thanks go to Candace for sharing Wyatt's reality of a young boy living with scleroderma, whose determination and resilience in coping with his diagnosis, is awe inspiring and humbling.
Facebook users can follow 'Wyatt the Warrior'
https://www.facebook.com/wyattwrightthewarrior/photos/a.359875794212477.1073741828.359171860949537/603614819838572/?type=3&notif_t=notify_me_page&notif_id=1479311154274309
I would also like to take this opportunity to thank Candace for the extra thousands of miles she goes not only for Wyatt, but also for the global scleroderma community as a whole. I believe that international and global collaboration is essential for solving the scleroderma mystery. I wrote about this earlier in the year.
https://sclerodermanews.com/2016/03/14/5517/
I also highlighted the importance of year-long awareness raising in my flashback article
https://sclerodermanews.com/blog/2016/07/11/scleroderma-awareness-month-flash-back/
Living the dream, hoping for a cure, scleroderma style…
Note: Scleroderma News is strictly a news and information website about the disease. It does not provide medical advice, diagnosis, or treatment. This content is not intended to be a substitute for professional medical advice, diagnosis, or treatment. Always seek the advice of your physician or other qualified health provider with any questions you may have regarding a medical condition. Never disregard professional medical advice or delay in seeking it because of something you have read on this website. The opinions expressed in this column are not those of Scleroderma News, or its parent company, BioNews Services, and are intended to spark discussion about issues pertaining to scleroderma.