Changes in metabolites may serve as blood biomarkers in SSc
Researchers in China conducted large metabolic study in systemic sclerosis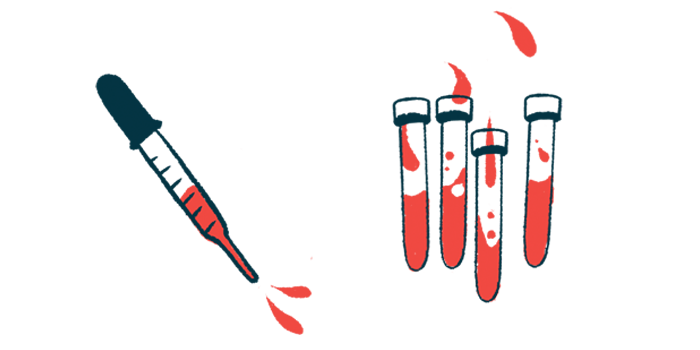 Certain metabolic changes in the blood could serve as biomarkers for systemic sclerosis (SSc), according to a recent analysis.
In "the largest metabolic study in SSc so far," researchers identified metabolites — small molecules that are products of metabolism — that distinguished SSc patients from healthy adults, but were partially normalized with treatment.
A number of metabolites also were correlated with certain SSc clinical features, such as skin fibrosis (scarring) or lung involvement.
Overall, the data indicate a "disturbed metabolic profile" associated with SSc that can serve as disease biomarkers, according to the authors.
The study, "Serum metabolomic profiling reveals potential biomarkers in systemic sclerosis," was published in the journal Metabolism.
SSc is an autoimmune disease characterized by inflammation and fibrosis of the skin and sometimes internal organs. How SSc emerges isn't fully understood, but genetic and environmental factors are thought to contribute.
More recently, it has been proposed that certain metabolic changes may play an important role in SSc.
As such, metabolomics — the large-scale study of all the metabolites in a person's system — could be a useful way of identifying novel pathways that underlie SSc. Examples of metabolites include sugars, lipids (fatty compounds), and amino acids (protein building blocks).
To learn more, researchers examined the metabolic profile in blood samples from 127 newly diagnosed and untreated SSc patients, comparing them with samples from 142 healthy people, all of which were collected at Xiangya Hospital in China.
These newly diagnosed SSc patients exhibited an overall metabolic profile that was unique from healthy controls, with hundreds of metabolites found at different levels in the two groups. Examples of metabolites whose levels were increased or decreased relative to controls included those implicated in amino acid and fatty acid metabolism.
Among the patients, 57 people also had blood samples obtained after they had begun treatment for SSc. Their metabolic profiles were distinct from the untreated samples. In particular, a number of metabolites that were altered in SSc patients relative to healthy people were partially restored after receiving therapy, such as the amino acids L-glutamic acid and L-proline.
"Together, these results identified a set of metabolites and pathways were normalized in response to treatment in SSc, indicating that these metabolites may thus serve as markers of treatment exposure," the researchers wrote.
Correlating with SSc clinical factors
A number of individual metabolites also were found to be correlated with clinical factors in SSc patients, particularly the modified Rodnan Skin Score (mRSS) of skin thickness and the presence of interstitial lung disease, marked by fibrosis in the lungs.
Among the subset of patients who saw reductions in skin fibrosis after treatment, as assessed by the mRSS, certain metabolites trended toward  normalization, but those metabolites were unaltered in people who saw a worsening of fibrosis over time.
Lower levels of allysine and all-trans-retinoic acid were associated with higher mRSS scores, or greater skin fibrosis. In contrast, higher levels of D-glucuronic acid and hexanoyl carnitine were associated with higher mRSS scores.
Another large panel of metabolites was able to effectively distinguish patients with ILD from those without it, while others were linked to sclerodactyly, a thickening or hardening of the fingers, or markers of inflammation.
A number of metabolic alterations observed in SSc patients also were identified in mouse models of fibrosis, "indicating a general metabolic change associated with fibrotic tissue remodeling in SSc," the researchers wrote.
Overall, "our study provides novel insights into the mechanisms underlying the development of SSc, as well as a set of metabolic biomarker candidates for SSc," the researchers wrote.
Still, "additional investigations are necessary to explore the mechanisms underlying the metabolic changes," they added.
As study limitations, the scientists included the fact that it was conducted only in Chinese individuals, so the results need to be confirmed in people of other genetic backgrounds.